Patron surveys available until May 3 for superintendent search
Position would be second administrative spot filled this spring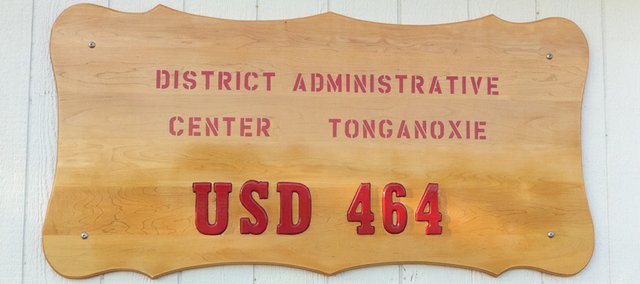 Tonganoxie USD 464 officials are asking for assistance with their superintendent search.
The district has posted a five-question Survey Monkey questionnaire on its website, tong464.org, for patrons to fill out.
The stakeholder input form asks questions about the community and schools, issues a new superintendent should be aware of and attributes a superintendent should possess to be successful in Tonganoxie. The survey opened April 8 and will close May 3.
A stakeholder meeting is set for 6 p.m. Thursday, April 21, at the Chieftain Room on the THS east campus. The meeting will help patrons give input in what to look for in a superintendent.
The school board is looking to hire a new superintendent after Lyn Rantz announced she would be leaving at the end of June to take an administrative position at Topeka Collegiate.
Patron questionnaires are part of the superintendent search that McPherson and Jacobson, the consulting firm the school board hired for the search, has laid out as part of the process. The firm also is doing the stakeholder meeting with patrons.
Stakeholder questionnaires will lead into a schedule the school board approved at its last meeting April 11.
The board approved meetings for May 9, from 5 to 6 p.m. for a special meeting in advance of its regular meeting at 6 p.m. to review feedback form stakeholder groups and to develop interview questions.
A May 16 meeting was set to select candidates to interview, and meetings May 17, 18, 19 and 20 were set to conduct interviews with candidates.
A special meeting would then take place May 23 to select a new superintendent.
Stakeholder group meetings are scheduled for Thursday, with the superintendent application period set to close May 2.
When a new superintendent is hired, it will be the second administrative hire this spring.
The board approved, 7-0, the hire of Kasi Brown as the new Tonganoxie Elementary School/Tonganoxie Middle School assistant principal.
She comes to Tonganoxie from JC Harmon High School in Kansas City, Kan., where she has been assistant principal and freshman academy principal since 2014. She also has experience as an elementary school teacher and middle school teacher.
Brown earned a bachelor's degree from Kansas University and a master's from Avila, as well as a master's in educational administration from Emporia State University.
Brown will be the first shared assistant principal between the two schools. Former TES teacher Nichole Gurwell was hired to become an instructional coach for the two schools for the 2015-16 school year. District officials earlier this school year decided the shared assistant principal position would replace the instructional coach position.
Gurwell, a 2015 Horizon Award winner as a TES fourth-grade teacher, has taken a position in the De Soto school district for 2016-17.