Souvenir buttons can also win residents prizes at Tonganoxie Sesquicentennial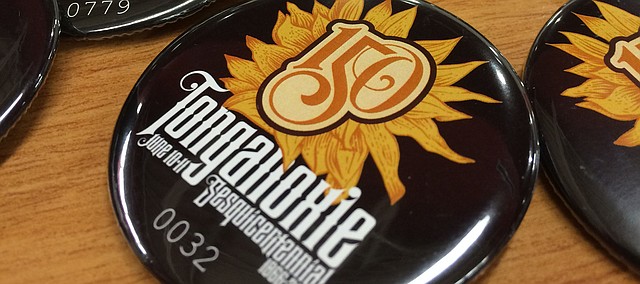 The Tonganoxie Sesquicentennial is still about 2 1/2 months away, but a chance to have a memento of the festival — and possibly some cash in one's pocket — is now available at a few locations around town.
Sesquicentennial buttons are available at various venues throughout Tonganoxie: Community National Bank, First State Bank and Trust, Gambino's Pizza, Flashbacks, Talette's Cafe, The Downtown Drugstore, Tonganoxie Chamber of Commerce and City Hall.
In addition to being souvenirs, the buttons include a number below the sesquicentennial logo.
Numbers will be drawn during the sesquicentennial for various cash prizes.
Each button enters one to win a $500 first prize, $250 second prize or three $150 prizes in honor of 150 years of Tonganoxie.
Suggested donation for each button is $5.
Kaija Baldock, who is on the entertainment and marketing committees for the sesquicentennial, said she was excited to now have the buttons available to the community.
"The button raffle is a fun way for the community to show their support of the Tonganoxie Sesquicentennial," Baldock said. "The proceeds go back to the festival committee to bring the event back every summer.
"Plus, each button gives you a chance to win a cash prize."
Winning buttons will be announced at 6 p.m. June 11 on the festival's main stage. Winners do not need to be present to win.
Winning numbers will be posted on the event's website, tonganoxie150.org. If someone has a winning button and is not present for the drawing, winning buttons can be presented and prize money collected between June 13 and 5 p.m. June 17 at City Hall, 321 Delaware St.
People who have buttons should hold onto them beyond June 17. If any prizes are unclaimed, new winning button numbers will be drawn each Monday until all prizes are claimed.
The button drive is one of many activities being planned for the sesquicentennial.
Team Tongie will be sponsoring bed races, food, craft and other vendors will set up along Fourth Street and three stages will be set up throughout the festival area for music and other entertainment. And, the community's history will be on display in designated areas.
Additional events are being planned and will be announced in the coming weeks.
For information about the festival, sponsorship opportunities and volunteer needs, contact City Hall at 913-845-2620 or the Chamber of Commerce at 913-845-9244.