Bernie wins Mirror/
LCHS

Cutest Pet Contest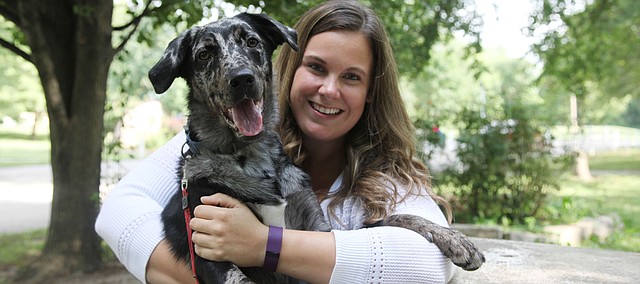 The votes have been counted and Bernie is the winner.
Well, not that Bernie.
The Mirror and Leavenworth County Humane Society teamed up for a Cutest Pet Contest that ran throughout July. People could "vote" for what they deemed the cutest pet, with each "like" counting as a vote. Identical photo albums on The Mirror and LCHS Facebook pages meant one person could give a maximum of two votes to an animal.
Bernie, an Australian shepherd/chocolate Labrador mix, belongs to Jamie Shockley, Tonganoxie's assistant city manager.
"I was really surprised," Shockley said about Bernie winning the contest. "I almost didn't enter him because there were se many cute dogs already entered.
"But I was really excited about it and thought it was pretty funny that my dog is going to be featured in the newspaper."
Prizes for Bernie and his family: various LCHS merchandise, a six-month subscription to The Mirror, a grooming certificate to Wizard of Paws in Tonganoxie and a $25 PetSmart gift card.
Bernie actually was a bit of a celebrity in his own right. He was born last Thanksgiving. Shockley's mother teaches in St. Louis and one of her students had a dog that was having puppies. Her parents already have three dogs and a cat, so Shockley, with some coaxing of boyfriend Andy Robichaud, picked Bernie from a whopping litter of 16 puppies.
Bernie's mother, Moira, is an Australian shepherd and his father a chocolate Labrador. She even has a Facebook page dedicated to her. To read up on her and see Bernie and his 15 siblings as pups, search for "Moira and her 16 pups" on Facebook.
As for Bernie, Shockley said he actually was named after the 1989 movie "Weekend at Bernie's," which is one of her and Robichaud's favorite flicks.
"We thought that that was just a very cute name for a dog," she said. "And it fits his personality."
The 8-month-old dog is "incredibly energetic and he loves everyone," Shockley said.
Bernie doesn't seem to know a stranger.
"He gets really excited whenever he meets somebody new; he's very energetic in case i didn't say that," Shockley joked.
He's obsessed with a toy pig that oinks, loves all dogs, people and food, according to Shockley.
Bernie even is a big fan of doggie daycare.
"He loves to play fetch and find sticks outside and tries to take them in my house," Shockley said.
She's glad she convinced her boyfriend to get Bernie.
"I've officially turned into one of those crazy dog parents," Shockley said.
Bernie won 63 votes between The Mirror and LCHS photo albums. Porkchop, a 7-year-old pit bull rescue dog from California, came in second just behind Bernie with 61 votes. Porkchop belongs to Mike Metzger and Jennifer Bruner of Basehor. In their emailed photo submission, Porkchop's owners said "he is the sweetest boy you will ever meet." Top vote-getter on The Mirror's photo album was Porkchop with 58 followed by Bernie with 46 likes on The Mirror's site. Rilee June, a purebred Great Pyrenees, had 25 votes, while Max, an 8-month-old miniature pincher, had 23. Rilee June belongs to Jon and Ashlee (Lohman) Orndorff of Leavenworth, while Max belongs to Madee Walker, who went to school in Tonganoxie. On the LCHS site, Lucki, a 4-year-old Jack Russell terrier/miniature greyhound mix, had the most likes with 53. Another 2 votes on The Mirror's Facebook page put him at 55. Lucki belongs to Raechel and David Mackey of Leavenworth. According to their entry submission, they named him Lucki as such because they were lucky to find him after tragically losing Raechel's previous dog, Buddi, to an accident. They found Lucki at a shelter when he was a pup.
There were 65 pet entries overall and 1,121 total votes cast, 586 on The Mirror page and 535 on the LCHS page.