Face to Face: Tonganoxie Fire Department's Ryan Bennett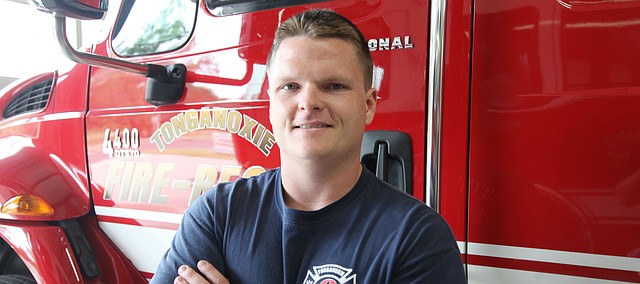 Name: Ryan Bennett
Born: Lawrence
Family: Bennett has a 2-year-old daughter, Sage, and another (Ember) is scheduled to make her appearance any day now. And, as Bennett said, "their amazing mother, and the love of my life, Tia."
Occupation: Bennett is a firefighter/EMT with the Tonganoxie City Fire Department.
Dream job as a child: The local firefighter said he was never one to dream about having a job when he was a child.
Interesting fact: Bennett is "a die-hard family man" and enjoys getting outdoors for a game of disc golf or regular golf. He first played disc golf at a course in Shawnee, but also plays courses in McLouth, Lawrence, Kansas City, Kan., and Olathe, along with several in Kansas City, Mo. The Water Works park in Kansas City, Mo., is his favorite course. He also plans take his discs on vacation. As for regular golf, he mainly sticks to local courses, such as Leavenworth, Basehor and De Soto.
Digging deeper: A 2006 graduate of Tonganoxie High School, Bennett spent some time bouncing around from college to college and working in the construction field.
He also worked for a stint at B&J Country Mart, but he said he never really was certain what he wanted to do.
Then, in 2012, his uncle, former Tonganoxie Fire Chief Dave Bennett, talked him into volunteering with the Tonganoxie City Fire Department.
"I was hooked from the get-go," he said. "I really enjoy being able to do some good for people any way I can, and this job provides many unique opportunities to do so."
Bennett completed his Fire I/Hazardous Material training through the Tonganoxie City Fire Department. He has been piecing together his associate's in fire science as he works for the department. He said he should have it finished up in a couple of semesters.