Incumbents ousted in primaries
Voter turnout low in Leavenworth County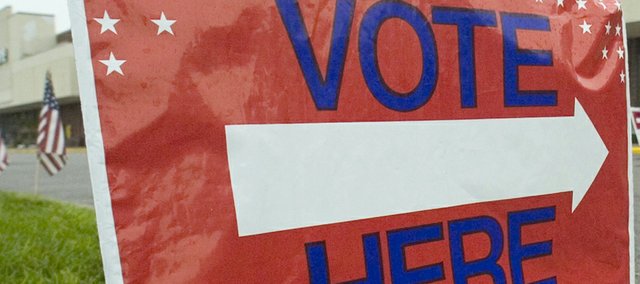 Tonganoxie will have new representation on the county and state levels.
Longtime county employee Doug Smith won the Leavenworth County Commission Third District primary, while Jim Karleskint won the Kansas House District 42 race in the Aug. 2 primary.
Smith, Leavenworth County's roads and bridges superintendent, won a four-person race with 42 percent.
He had 1,020 votes, more than 400 votes ahead of his closest opponent and incumbent Dennis Bixby (617 votes, 25 percent) in the Republican primary.
Basehor's John Matthews came in fourth (532 votes, 29 percent) and Tonganoxie's Bev Hill fourth (282, 11 percent).
"I'm just ready to serve the people of the Third District," Smith said last week. "I know note everything I want to do is going to get done, but I'm going to improve as many things as possible working with the other commissioners."
During the campaign, Smith stressed transparency. He would like meetings to be recorded so residents can watch after work if desired. He also favors more evening meetings and has concerns about how sales tax revenue has been used.
With no Democrats running, Smith has no opposition in the general election. He unseated incumbent Dennis Bixby in the primary. Bixby served one term after serving on the Tonganoxie City Council.
"I was surprised by the amount of votes," Smith said. "I was shocked and kind of humbled about it.
"I couldn't have done it without everybody's support. I know I had a lot of good people helping me."
Bixby, on his Facebook page, posted a status thanking voters.
"It is with a great amount of gratitude for all the people that helped me with my campaign," his status read. "I know that I did my best and now Doug Smith will serve from 2017-2021.
"I will work to help him with a smooth transition. I wish him all the best and I challenge each of you to hold him accountable as you have me. May God bless each and everyone of you."
Incumbent Connie O'Brien, R-Tonganoxie, first elected in 2008, has staved off re-election challenges in the general election. But last week, a Republican challenger unseated her in the Kansas House 42nd District primary by just more than 50 votes.
Karleskint, a retired educator and school administrator, will face Tonganoxie resident and Democrat Kara Reed in the general election in November. Reed is an educator herself, as she works as a biology instructor for Kansas City Kansas Community College. She also serves as a Tonganoxie City Council member.
In the 38th District race, incumbent Willie Dove, R-Bonner Springs, defeated challengers Mitra Templin and Nathan Lucas in the Republican primary. He will face Basehor Democrat Mike Fonkert, a Tonganoxie High School graduate, in the general election.
Despite many contested primary races, Leavenworth County voter turnout was especially low. Only 14.7 percent of registered voters participated in the primaries, according to County Clerk Janet Klasinski.