MIdnight run for Tonganoxie cross country spreads to other fall sports for first-practice tradition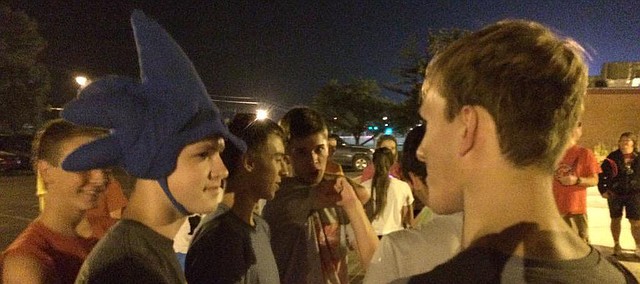 The midnight madness is catching on in Tonganoxie.
The Tonganoxie High cross country team first started the tradition of having the first practice of the new season at 12:01 a.m. on the first day Kansas high school teams can practice, per Kansas State High School Activities Association rules.
Former coach Phil Williams started the early morning run in the late 2000s and the tradition has carried on with current coach John Tollefson, who is entering his fourth year at the helm of THS cross country.
"It's just an exciting way to start the season on the very first minute that you can begin," Tollefson said. "You sense some eagerness to get going."
THS football and boys soccer teams followed suit in recent years.
At 12:01 a.m. Monday, the first official day of practice in Kansas, the THS volleyball will do join other Chieftain fall sports and start with the early introduction to the season.
The volleyball team will practice in the THS gymnasium, the football team at Beatty Field and the soccer team across the street at the Chieftain Park Soccer Complex.
Those teams will have stadium and gymnasium lights, but the original early birds always have to improvise.
THS runners will head out for a 3.2-mile "town run" after pre-practice warmups in the THS parking lot. Runners wear flashing lights and glow sticks for the run, while some of their parents volunteer to stand at various intersections throughout Tonganoxie.
"It's all for safety, of course, and a bit of a party atmosphere," Tollefson said. "Quite a few parents volunteer to stand along the route to ensure the new runners are making the right turns and things."
Tollefson said he's hoping for about 40 runners this year. He's averaged 20 student-athletes for the summer runs and is expecting a fairly even amount of boys and girls on this year's squad.
For the girls team, there are six of seven varsity runners returning for a squad that hopes to make it three straight state appearances as a team.
Mia Bond, Emma Campbell, Melissa Scott, Sierra Staatz, Hope Cretan and Erin Williams all return. In addition, Emily Chambers was sidelined with injury last year, but is "back and strong for senior season," according to Tollefson.
Sophie Wetta, was the lone senior starter last year on the varsity team lost to graduation. Another contributor, Nicole Zerrer, also was lost to graduation.
Ethan Phillips and Dylan Staatz are varsity runners lost to graduation that "will be hard to replace," but Tollefson also said that Drew Cook "has had a good summer."
"Several have worked hard over the summer to come into the season ready to go," Tollefson said.
Tonganoxie opens the cross country season with a dual at Lansing. For more about the cross country team and more on other fall sports teams, check out next week's edition of The Mirror.
Parents meeting planned
All parents of student-athletes participating in fall sports are asked to attend a meeting the same day fall sports start.
The meeting will start at 5:30 p.m. Monday and will take place in the Tonganoxie Performing Arts Center on the Tonganoxie High east campus.