'

Make Art, Not War' coming to Tonganoxie Community Historical Society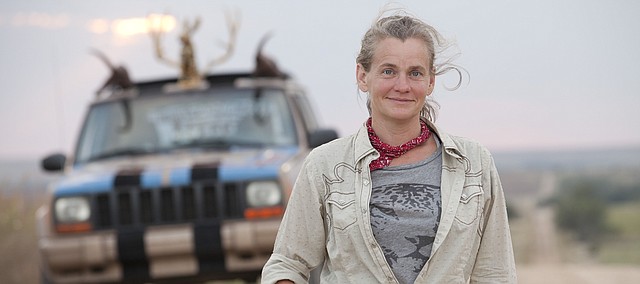 Through the years, Kansans have used art to convey opinions on war.
Next week, some of those actions will be brought to life at the Tonganoxie Community Historic Site.
The Tonganoxie Community Historical Society will host "Make Art, Not War," a presentation and discussion by Erika Nelson, starting at 7:30 p.m. Tuesday at the historic site, 201 W. Washington St.
Kansas is a frontier where strong people with strong opinions can find their voices.
Throughout history, some Kansans have used art to express their opinions while pursuing the greater good. From John Steuart Curry's depiction of John Brown at the Kansas Statehouse to MT Liggett's politically charged fence-line sculptures, protest art in Kansas is at times humorous, sometimes biting, and often clever.
Erika Nelson is an independent artist, educator, and director of the World's Largest Things, Inc. Her research interests include roadside attractions and outsider art environments. She explores the back roads of the United States in search of the odd and unique in her mobile museum, the World's Largest Collection of the World's Smallest Versions of the World's Largest Things.
"The artist's job is not just to document an era, but to interpret, to convey ideas, elicit emotions," Nelson said. "When artists have deeply emotional responses to the world around them, some feel compelled to use their art to not just express their own experience, their own view, but to spur viewers to action. This is where protest art finds its power."
"Make Art, Not War" is part of the Kansas Humanities Council's Kansas Stories Speakers Bureau, featuring presentations and discussions that examine our shared human experience — our innovations, culture, heritage and conflicts.
The Kansas Humanities Council conducts and supports community-based programs, serves as a financial resource through an active grant-making program, and encourages Kansans to engage in the civic and cultural life of their communities. For more information about KHC programs contact the Kansas Humanities Council at 785-357-0359 or visit online at kansashumanities.org.
Members of the community are invited to attend the free program and stay for refreshments after the program. Contact Kris Roberts at 913-704-7043 for more information. The program is made possible by the Kansas Humanities Council.