Soles for souls: Tonganoxie church collects shoes to raise money for religious studies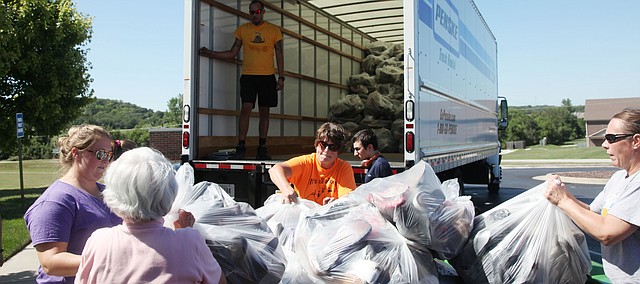 Boots and many other types of shoes donated at Sacred Heart Catholic Church were made for walking.
It turns out those shoes also were made to raise a good chunk of change for education programs at the church.
Several volunteers helped religious education coordinators Nancy Lanza and Jennifer Eastes on Saturday with loading those donated shoes — about 175 bags to be exact — for Funds2Orgs, a company that trades shoes for money in group's fundraising campaigns.
The organization partners with 26 developing countries. According to the organization's site, funds2orgs.com, the shoes become inventory in impoverished countries and impoverished families are "provided an economic lifeline to help them out of poverty," according to the site.
The collected shoes are repaired, cleaned and sold for profit throughout the world.
And then money is sent to organizations such as the Sacred Heart youth program.
Sacred Heart gathered most of its shoes during a drive from April 1 to June 30.
During that span, church organizers gathered more than 4,000 pairs of shoes, which is expected to generate around $1,500 for Sacred Heart's educational programs.
From new shoes to old shoes, the parish donated boots, flip flops, basketball shoes, tennis shoes, dress shoes.
If they go on your feet, they likely were donated.
"Our parish is so generous," Lanza said.
Lanza and Eastes said every time they had shoes organized and packed away, another wave of donations would come through the front door.
Shoes were stacked up in garbage bags in a shed on the church's property, in classrooms and in homes.
There would be times the church's main hallway would be lined with donated shoes, Eastes said.
And on "Barefoot Sunday," parishioners were encouraged to donate the shoes they wore to church.
Friends of the Rev. Mark Goldasich, the parish's longtime priest, from outside Sacred Heart also donated heavily to the cause.
Eastes said Goldasich used a homily to get the message of doing without extra items one might not need that could benefit others.
Again, the parish responded and on Saturday, church members helped in throwing garbage bag after garbage bagf full of shoes into a large storage truck.
Kathy Ramseier, Leon Widhalm, Jacob Widhalm, Riley Widhalm, Thomas Stockman, Connie Putthoff, Cadence Dare, Shannon Reischman, Bernie Burke and Jennie Miller all were part of the group of church members who helped move the shoes.
Proceeds from the drive will go toward various religious education needs, such as supplies, snacks and field trips.