A bountiful cup for Tonganoxie student-athletes?
THS

trainer weighs in on therapy craze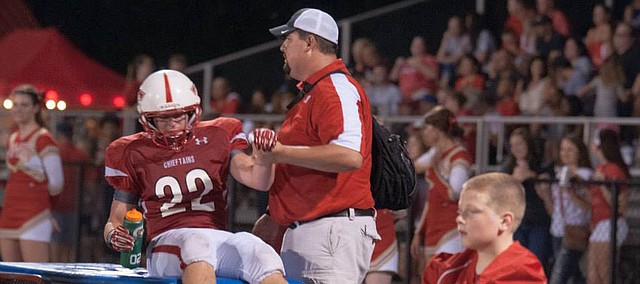 Michael Phelps caught the world's attention in Rio with an increasing personal medal count as he closed out one of the most decorated Olympic careers ever.
Those discolored circles on his back also caused quite the chatter also.
Phelps has been utilizing a therapy more and more athletes are using.
It's called cupping, and it's an ancient Chinese therapy in which heated glass cups are applied to the body.
They create a suction that is said to stimulate the flow of energy.
According to webmd.com, the ancient therapy helps with pain, inflammation, blood flow, relaxation and well-being as a type of deep-tissue massage.
Some swear by the method, but you likely won't see Tonganoxie High athletes sporting those red cupping marks on their skin.
"I didn't order a cupping set, " joked Mark Padfield, THS athletics director, during the first fall sports practices of the season early Monday morning.
From Padfield's vantage point, the therapy is beneficial for dermatological reasons.
He said there wasn't much data in the way of current data to suggest athletic trainers start using the method to treat athletes.
But, he said that as the therapy continues to grow in popularity, more research and statistics should accompany the practice.
At this point, it's not one of his muscle treatments, but he's also seen what he's viewed as various fads make their way into athletics to provide potential advantages.
Exhibit A: Kinesio tape, which actually dates back to 1979, according to breakingmuscle.com.
The tape comes in various colors and is used to help muscles combat injury.
The tape has made appearances on some athletes during the Rio Olympics, but it's not as prevalent as it was a few years ago.
Locally, the tape could be seen used frequently at wrestling competitions, with pieces of the tape stripped in various configurations along grapplers shoulders and backs.
Like the cupping equipment, Padfield's training room is void of the Kinesio tape, though there is plenty of athletic tape in his inventory for taping ankles and other ailments.
At the same time, Padfield doesn't view the procedures as harmful. And such things can have a psychological effect.
"I'm not sure how well it works between the goal lines," he said. "But if it works between the ears, that's good enough."
Though THS fans won't see Padfield administering cupping therapy this fall, he and his athletic training interns can be seen at Chieftain football, volleyball, cross country and boys soccer events at Tonganoxie home venues this season.