Still aging: Kansas wine industry without key designation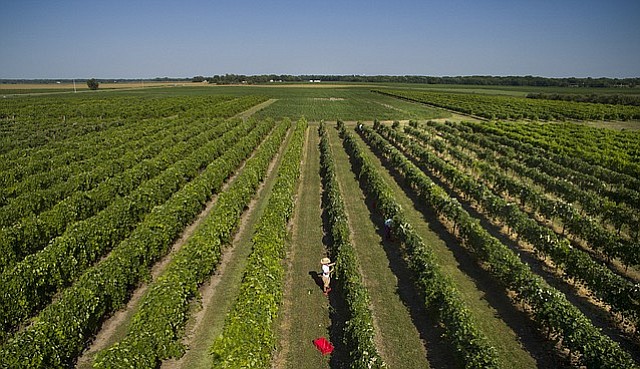 The first of this season's grapes in the vineyards of local wineries were picked in recent days and the rest will be harvested in the busy weeks ahead.
The freshly harvested grapes will then be pressed, allowed to ferment and age, and poured into bottles, many with labels embracing the wines' Kansas origins. But missing from those labels will be a key designation that other fine wines across the country carry. You've perhaps seen it: A government-approved statement saying the grapes for this wine came from the Napa Valley, for example. Imagine the day when wine bottles may carry a statement touting the grapes were grown in the Kaw River Valley.
Serious wine drinkers like to know where their grapes come from, and the most serious of wine producing regions are granted a government stamp called an American Viticultural Area designation. Kansas' wine industry is still seeking its first such designation.
The state wine industry has grown in the past quarter century, thanks to the pioneering efforts of Greg Shipe of Davenport Orchards and Winery in Eudora and Michelle Meyer of Holy-Field Vineyard and Winery in Basehor. But in respect to AVA designations, the Kansas industry lags behind that of the Missouri wine industry, which has three within its borders and shares another with Iowa.The Alcohol and Tobacco Tax and Trade Bureau of the U.S. Treasury Department is charged with awarding AVA designations from petition applicants. To date, it has approved 243 AVAs in 25 states, ranging in size from less than a square mile to thousands of square miles. With 130, California has by far the most, with an AVA map sliced and diced like a master's level jigsaw puzzle.
Growing momentum
In the hopes of starting momentum in addressing the state's lack of AVAs, State Sen. Tom Holland, D-Baldwin City, successfully cosponsored a resolution this spring in the Kansas Legislature with Sen. Julia Lynn, R-Olathe, and Sen. David Haley, D-Kansas City, that encourages the state's Congressional delegation to work with Kansas grape growers and winemakers petitioning for AVAs.
However, Holland, who this spring planted 288 grape vines as the first step to opening a winery at his Vinland Valley farmstead, said there were no active AVA petitions before federal officials, although one from the Flint Hills had been submitted in the past.
The federal website states the designations "allow vintners and consumers to attribute a given quality, reputation, or other characteristic of a wine made from grapes grown in an area to its geographic origin."
Put simply, the designation recognizes wines made from grapes grown in a particular soil, climate, elevation and other such factors, said Michelle Meyer, of Holy-Field Winery, which she founded with her father, Les Meyer. The winery is the oldest in the state. The family planted their first grape vines in 1986 and started the winery in 1994.
Meyer said an AVA is a territorial designation and not one of quality. The designations help in marketing as it would give consumers confidence in the consistency of the wine they buy, she said. An AVA label on the bottle means at least 85 percent of the grapes used to make the wine were grown in that designated area.
Nonetheless, Meyer says her family's winery has established a track record that gave her customers' confidence in the quality of the wines her family produces from the 10 varieties of grapes grown on 14 acres.
Shipe, who grows 17 grape varieties on 24 acres and produces 40 different wines, said there has been talk of forming a northeast Kansas AVA. He doubts there is enough uniformity of soils and climate for that to gain approval from federal officials. The deep soil of his vineyards in the Kansas River Valley is different than that of Meyer's Holy-Field vineyards 5 miles north of the river in Basehor and the Bluejacket Crossing Winery at 1969 North 1250 Road just south of the Wakarusa River in Douglas County.
As for the Kansas River Valley, there is not enough activity to assure grape-growing and winemaking will be sustainable, Shipe said.
"We need more people growing grapes," he said. "If we had a thousand acres, we could do it. I understand the TTP's position. Why give an area an AVA when there may not be any vineyards there in 20 years?"
He would welcome competition in the valley of fellow vintners who shared his passion of making wine from locally grown grapes, Shipe said, because that would help build the valley's reputation. The thriving wine tourism industry across the state line offered an example of that shared success, he said.
Missouri's advantage was the 20-year head start it enjoyed on Kansas in the easing of Prohibition-era laws that prevented farms from making and marketing wine. Missouri made those changes in 1965, and Kansas in 1985.
Fighting time, chemicals
A problem that has limited the industry's growth is damage to grape vines from the herbicide 2,4-D, Shipe said. The herbicide can drift to damage vines 2 to 4 miles in distance, but has been traced to damage 14 miles away, he said.
The herbicide used to be widely applied to row crops but has been replaced in those applications, Shipe said. It is now chiefly used by utilities and to fight noxious weeds in pastures. If used during cooler weather during the fall, the herbicide is more effective and doesn't drift, he said.
"I see damage every year from 2,4-D, but this year was the least in 15 years," he said. "Too many people have lost money. I know a lot of growers to start growing, get excited about it, get hit hard and say, 'Forget it, I'm out of here.' If we could solve 2,4-D, that would be the biggest thing in growing the industry."
Shipe said he was intrigued with the idea of petitioning for an AVA when he opened his winery 19 years ago, but moved on knowing it would do little to help the marketing of the wines he offers only in Kansas. Holland's legislative initiative reignited his interest enough that he was reviewing the TTP's 35-page manual on the petitioning process, which states it is a "deliberative procedure, which frequently takes multiple years to complete."
Among other things, the process requires detailed definitions of the proposed AVA using U.S. Geological Survey maps, a list and supporting documentation of its distinguishing features such as soil type and climate, number of vineyards and bonded wineries in the area with information on the acreage and ownership.
Meyer and Shipe think their vineyards and wineries have the history and acreage to potentially earn AVA status, but concede the prospect of that paperwork is daunting.
"This is a labor-intensive business," Meyer said. "There is no down time. We go from harvest to the cellar and then we start pruning."