Special delivery for Tonganoxie firefighters
Personnel first to respond as local mother has baby in bathtub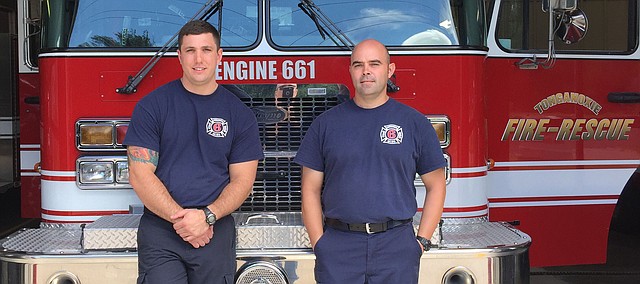 James Davis started Tuesday as a full-time firefighter with the Tonganoxie City Fire Department after serving several months as a part-time firefighter.
A Saturday bundle of joy might have been considered a good way to break in the brand spanking new full-timer.
Davis, along with Capt. Adam Griffith, were called to Washington Street for a medical call — a resident was about to give birth.
They had just gotten back to the station from another call that required the local ambulance to take a patient to the hospital.
With an ambulance in Basehor being the closest Emergency Medical Services vehicle, Griffith and Davis were the first on the scene.
The firefighters, trained as emergency medical technicians as part of their certification, headed to the call.
Alicia Stoltenberg was in the bathtub. Her husband, Zachary, had taken the couple's other two children to another house and was on his way back. But the baby was crowning.
And it was time for the firefighters to deliver a baby.
"It went pretty quick," Griffith said. "I think it was two or three pushes and the baby was out."
They delivered the baby and cut the umbilical cord before EMS or Zach got back.
For Davis, it wasn't a routine call.
"Everything went really smooth," Davis said. "That's not the call you would expect every day."
And not a bad way to ease into his new position.
"It definitely was a nice way to start my career I guess you could say," he said.
Mother and newborn son, Macklin Lawrence Stoltenberg, were taken to Lawrence Memorial Hospital and reported to firefighters that the family is doing well.
Macklin weighed 6 pounds, 12 ounces and was delivered full term.
Griffith, who has been with the department almost six years, said that was a first for him.
"I've never been on scene of one, other than my own," he said. "Mom did most of the work. She knew what she was doing. We were there to catch it basically."
The firefighters arrived about 11:15 a.m. and the baby was born at 11:34 a.m. Saturday, Griffith said.
James actually started full-time this week to spell another firefighter who himself was having a child. Ryan Bennett recently became a father again, so Davis was taking his place.
"We just went in there and evaluated the situation and did our jobs," Davis said. "Everything went great. The baby was healthy and cried right away."
Fire Chief Jack Holcom said he's been on a couple delivery calls, but that's over a 37-year career.
"It's sometimes a once or twice-in-a-career call," Holcom said. "It's a rarity."
For Davis, it wasn't far into his career.
"We visited with them," Davis said. "Everyone seems to be doing great. It was good to see the baby was healthy. I got to hold the baby."
For more about the family, see an upcoming edition of The Mirror.