Chief scholarship for Tonganoxie High graduate
Shelton wins Len Dawson award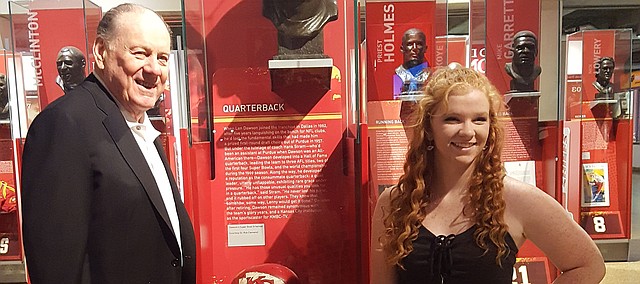 It's not everyday a person gets recognized front and center in a 76,000-seat stadium.
Tonganoxie's McKinna Shelton, though, stood earlier this month at midfield during a Chiefs home football game to receive an esteemed award.
Shelton, who graduated in May from Tonganoxie High School, received the 40th Len Dawson Scholarship.
The Tonganoxie High grad was recognized during the Chiefs preseason game against the Seattle Seahawks at Arrowhead Stadium.
Shelton was one of 80 applicants in the Kansas City metro area who vied for the scholarship. She then was one of five finalists who interviewed with a scholarship committee.
And, on an already special day — THS graduation — Shelton found out she had won the $3,000 scholarship.
Shelton, who started classes this week at Kansas State University, attended the preseason game with family, met Dawson and Clark Hunt, owner of the Chiefs. When she wasn't being recognized on the field, Shelton was watching the game with family with complimentary food.
"We basically got the royal treatment at the Chiefs game," Shelton said.
She first learned of the scholarship last year from former counselor Jean Bennett. Bennett and THS principal Mark Farrar nominated her. She then filled out the online application.
The scholarship considers academic excellence, but also takes into account areas beyond the books: extracurricular activities and leadership abilities.
While at THS, Shelton excelled on the powerlifting team. Her hard work in the weight room culminated in March when she won the overall title in her weight division and the squat title at the state meet in Clay Center.
She also served on student council all four years of high school, girls letter club and track three years, National Honor Society two years and was a football manager. She also was a captain for the Big Red pep club.
The Len Dawson Scholarship is a one-time award that goes toward Shelton's schooling at KSU.
She is majoring in elementary education.
Dawson, a member of the Pro Football Hall of Fame, played at Purdue University before playing his full career as quarterback in the Chiefs organization. He also helped Kansas City to its lone Super Bowl championship and is a longtime broadcaster.