Face to Face: Tonganoxie High School counselor Tara George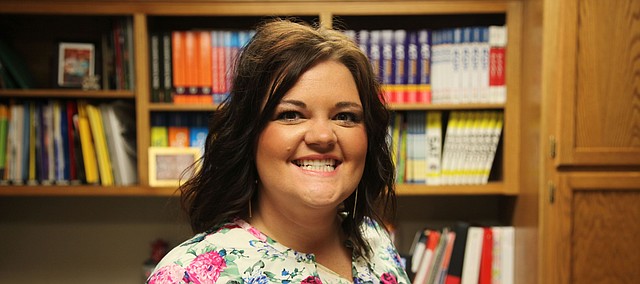 Name: Tara George
Born: July 2, 1986, in Shawnee.
Family: Husband, Phil George; two daughters, Gia, 3, and Braelyn, 2; parents, Bryan and Tammy Kemp; and a younger sister, Hannah Kemp.
Occupation: George is a counselor at Tonganoxie High School.
Dream job as a child: George wanted to be a singer as a youth.
"As a child I was destined to be a rockstar, and decided I would be a teacher until my career took off," George said.
Interesting fact: She's not sure how many people know, but George actually can sing.
She's sang at several weddings and in church.
"I'm a master karaokist, if that's how you say it," George said with a laugh.
Digging deeper: A 2004 Tonganoxie High School grad, George then went on to Pittsburg State University. She graduated from Pitt State in 2008 and then started her first teaching job as a family and consumer science teacher at Bonner Springs High School.
"I always dreamed of coming back to THS and when Pam Lamb retired, I jumped at the chance," George said.
George started teaching at THS as a family and consumer science teacher in 2012, a position she held for four years.
"I loved teaching, but was ready for a new challenge and accepted the counseling position last spring," she said.
George now is the junior/senior counselor at Tonganoxie High School.
She formerly was the pep club sponsor at BSHS before coming to THS. When she arrived at THS as a teacher, younger sister Hannah, then a senior, encouraged her to start a pep club. Big Red, complete with T-shirts and flags. The clubs started with 150 students and has grown each year, George said.
With two daughters, George said her hobbies "become whatever their schedule is for the day, though she did say she dabbles in another pasttime.
"I do like to be crafty," George said. "I try to make little projects."