Sunflower success near Tonganoxie
Grinter Farms' display leading to other opportunities in area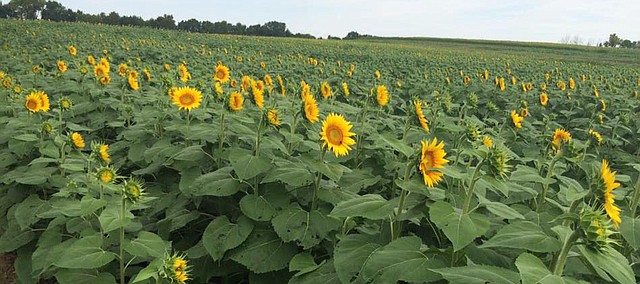 The main event of 40 acres covered in yellow and green is expected to be on full display — weather permitting — for Labor Day Weekend.
The Grinter Farms sunflowers, a growing draw for visitors near and far, are expected to be ready for photo opportunities this weekend, according to Kris Grinter, whose husband has been planting the photogenic crop for some 30 years.
Kris Grinter said it's been difficult to track exactly how many people have visited, though the nearby Tonganoxie/Eudora turnpike interchange had a bump of 28,000 more cash transactions in 2015 than 2014, she said.
How many of those were coming to visit the sunflowers is anyone's guess, but she said last year's attendance definitely was the most the farm has experienced.
The field, at 24154 Stillwell Road, is just off U.S. Highway 24-40 to the west between Tonganoxie and Lawrence.
Whether it be competing weeds or a heavy rain after planting, the field is in different stages of growth, though Grinter said visitors can find the most mature sunflowers by taking the gravel road just east of the field back farther to the north.
"It's hard to get rid of the weeds because the sunflowers are weeds also," she said.
The Grinters expect the blooms to be ready for visitors this weekend. Some of the flowers had to be replanted, so those flowers could offer folks who can't make it out this weekend more opportunities next week and into the Sept. 10 weekend.
For tips, do's and don'ts with visiting the field, check out the Grinter Farms Facebook page.
Sunflower General
Though the sunflower fields will forever be the big draw, the seasonal extravaganza has triggered other attractions that could benefit from the fields of gold.
Grinter recently opened Sunflower General at 14755 243rd St.
The business, in a home the Grinter family owned many years ago, is around the bend from the fields.
The house is near another field along U.S. 24-40 where the family planted sunflowers on an every-other-year rotation with the current field along Stillwell Road. But because of the growing popularity and vehicles stopping along the road for photos, it became a traffic safety concern.
Grinter said she and friend Marie Treichel have always discussed one day opening a coffee shop, possibly in downtown Tonganoxie.
When the house became available for sale, Ted and Kris discussed the idea of converting the home into a business, a bit of a "trial run" for that future coffee shop endeavor.
They took it over in June and have made various renovations and taken care of regulations in a whirlwind effort to be open for sunflower visitors, including getting a special use permit from Leavenworth County.
It's now open for business from 7:30 a.m. to 3 p.m. Saturdays and Sundays and can be found on Facebook. Once the business gets through the peak sunflower season, Grinter and Treichel will assess how frequently they'll be open.
The business offers food goods from local producers, including honey, barbecue rubs and canned goods. That includes "boozy" jams and jellies made with such libations as wine and vodka. There are additional goods and crafts from "other local artisans," while Grinter, Treichel and Grinter's daughter, Sidney, make specialized baked goods.
Kris handles pies, Sidney bakes muffins and cookies and Treichel turns out cobbler.
And, of course, there's also coffee.
Tonganoxie flavor
The sunflower fields have a Lawrence address, but the fields are a bit closer to Tonganoxie.
The fields, like Tonganoxie, are in Leavenworth County. The southern Leavenworth County town has a connection to the family and its farm.
Kris is a Tonganoxie USD 464 School Board member, while Ted is a Tonganoxie High School graduate. Each year, the Tonganoxie Education Foundation announces its Hall of Fame class. In 2013, Ted's father, Jim Grinter, was given the alumni achievement award as one of that year's inductees. Jim first started growing many years ago as part of the family's farming portfolio, with Ted carrying on the tradition.
Check out the downtown murals at Fourth and Delaware recently created in a new pocket park and one will find nods to the Grinter sunflowers on the murals.
There has been growing discussion in Tonganoxie of building on the sunflower success and direct visitors up the road to Tonganoxie.
Mayor Jason Ward, a member of the Tonganoxie Civic Club, said the organization was looking to coordinate a fall citywide event to coincide with the sunflower fields.
With the community just finishing up its massive sesquicentennial celebration in June, civic club members decided to hold off on any fall festival ideas until 2017.
In the meantime, the civic club worked with the Grinters for advice on planting some small plots of sunflowers around Tonganoxie.
"We used this year to see how well they would do and if they did well, we could use them in conjunction with the fall festival next year," Ward said.
Tonganoxie hasn't officially decided on when its annual festival will take place moving forward, but sesquicentennial organizers have been leaning toward the fall.
As for the civic club's green thumbs, the first run has been a learning experience.
"I would say it's mixed results," Ward said. "Several locations are doing really well and there are others where they didn't come at all.
"It's really hard to understand why that happened. I think next time we'll drop a couple in seeds in each hole."
Ward anticipates the Tonganoxie flowers to be blooming the second weekend of September.
He invites visitors to see the roughly 10 sunflower spots throughout Tonganoxie and check out the town in the process.
"One of the interesting things I didn't know … they'll grow and then when they bloom, they'll face the east."