Tonganoxie Phil: Remembering the weather prognosticator with every Groundhog Day story written about him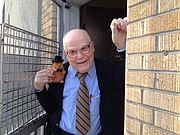 In what could be a foreshadowing of sorts — without the shadow — the area might be in for an early spring.
After all, today is Groundhog Day, and with an overnight rain shower reminiscent of springtime precipitation, it could be a sign.
The overcast morning also would have made it difficult for Tonganoxie Phil to see his shadow — if he had gotten up early enough. The sun did make its way out eventually today.
For nearly 20 years, Tonganoxie Phil — Dr. Phil Stevens — was Tonganoxie's answer to Pennsylvania groundhog Punxsutawney Phil. A Kansas City radio station started interviewing Stevens in 1998. The Mirror started the annual inquiry in 2001.
But last July, Stevens died in his sleep after celebrating his 60th anniversary practicing medicine that day.
Stevens is a Tonganoxie icon — his image is etched in a mural on the west side of his office in downtown Tonganoxie. He'll forever be known for his warm and caring manner as a physician and his years taking on the lovable weather prognosticator persona of Tonganoxie Phil.
As we celebrate Groundhog Day, here's a year-by-year look back at stories The Mirror published about Tonganoxie Phil after Groundhog Day. To read each year's story, click on the corresponding link. For stories since 2010, click on 2015, 2014, 2013, 2012, 2011 and 2010. To read about the annual predictions from 2005-09, click on 2009, 2008, 2007, 2006 and 2005. And for the first stories about Tonganoxie Phil, click on 2004, 2002 and 2001. In looking at our archives, for some reason a 2003 story is not appearing.
Do you have any memories of Dr. Stevens? Go to our Facebook page and share your comments. Be sure to use #tonganoxiephil. You also can Tweet using #tonganoxiephil. Feel free to use our handle @tonganoxie also.