Rank and file: Tonganoxie High wrestling takes 4th behind state powers at Baldwin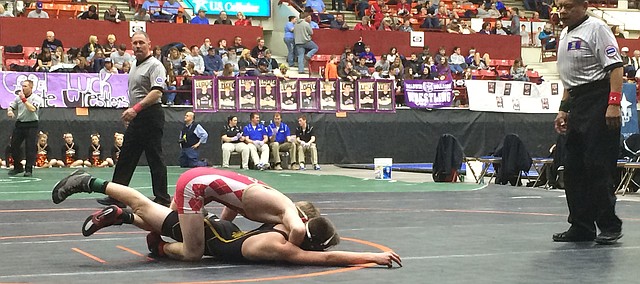 Tonganoxie High had arguably its best showing of the wrestling season Saturday at the Baldwin Invitational Tournament.
The Chieftains finished fourth out of 16 teams, finishing behind a trio of ranked teams in Class 4A.
Goodland, ranked No. 7 in 4A, won the meet with 216 points, while Santa Fe Trail, ranked No. 2, finished second with 172.5. No. 6 Baldwin took third with 159. THS wasn't far behind at 146.5.
Basehor-Linwood, the only other Kaw Valley League team at the meet, tied for 11th with Wamego. Both teams scored 88.
Tonganoxie wrestlers placed in nine weight classes, including first with Gad Huseman at the 126-pound division, second with Korbin Riedel at 120 and third with Justin Hand at 152.
Aidan McLellan got to the medal stand first for the Chieftains. The sophomore placed fourth after losing to Wamego senior Dylan Bloom (13-4) by 2-1 decision. The sophomore now is 8-6 on the year. Riedel couldn't knock off undefeated Goodland junior Tate Withington (31-0) in the 120-pound division. Withington won, 7-2, handing the THS freshman just his sixth loss of the season (35-6).
Huseman, a sophomore, won gold with a 5-2 decision against Smoky Valley junior Austin Lustfield (22-3). Huseman now is 30-7.
Patterson Starcher continued his strong sophomore campaign with a fifth-place finish at 132. Starcher (27-10), defeated Smoky Valley junior Noah Lackey (17-13) by forfeit in the fifth-place match.
At 138, Jay Willcutt placed eighth after falling to Prairie View freshman Gavin Cullor (21-10) defeated Willcutt (8-6) by a 3-1 decision in the seventh-place match.
Caden Searcy helped the Chieftains with a fourth-place finish at 145. The sophomore (24-8) lost, 4-2, to Rock Creek senior AJ Burenhiede (24-9).
Hand earned Tonganoxie's lone bronze medal by pinning De Soto senior Jackson McQuality (18-16) 20 seconds into the match. Hand, a sophomore, improved to 21-14 on the year.
At 160, Cody Knight finished eighth after losing to Rock Creek junior Shad Winn (24-10). The THS junior (12-15) lost a hard-fought match, as he was pinned with 4 seconds left in the third and final period.
Devin Duncan (13-10) earned Tonganoxie's final points with a fifth-place finish at 170. Duncan, a sophomore, lost to Rock Creek junior Dawson Stanely (15-17) with 11 seconds to spare in the third period.
As the Chieftains prepare for their final competitions of the season, Tonganoxie has two players who are ranked in 4A. Huseman is ranked No. 3 at 126 and Riedel is No. 4.
Tonganoxie has its final home competition of the season Thursday with a dual against Bonner Springs. Varsity and junior varsity both will start at 5:30 p.m. against BSHS.
The team will have a weekend off before tackling the rest of the Kaw Valley League. The KVL Meet will start at 9 a.m. Feb. 13 in Bonner Springs.
Regionals will be Feb. 19 and 20 in De Soto and state is Feb. 26 and 27 in Wichita.
Team scores
Goodland, 216; 2. Santa Fe Trail, 172.5; 3. Baldwin, 159; 4. Tonganoxie 146.5; 5. Smoky Valley, 130.5; 6. (tie) Burlington, Prairie View, 127.5; 8. Louisburg, 126.5; 9. Holton, 104; 10. Spring Hill, 101; 11. (tie) Basehor-Linwood, Wamego, 88; 13. Osawatomie, 72; 14. Rock Creek,