Tonganoxie boys win another nail-biter, have won 3 of last 4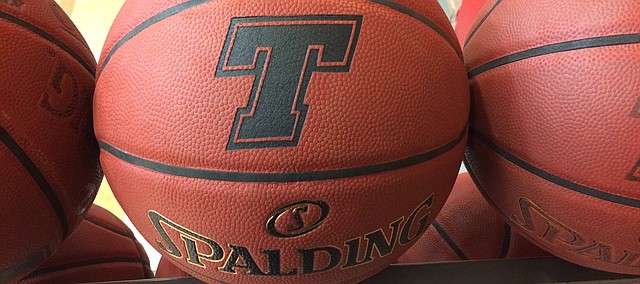 The Tonganoxie High boys won another nail-biter and then nabbed its first road victory last week.
After starting 0-9, the team has won three of its last four games.
THS defeated Heritage Christian, 32-30, Jan. 26 at home and then defeated Bishop Ward, 47-38, on Friday in Kansas City, Kan.
The Chieftains were in a tight game all night against Heritage Christian. Tonganoxie had the largest lead at five points early (10-5). The game also saw four lead changes and six ties. Both teams also had similar runs, with THS' longest being 11-3 and Heritage Christian's 11-2.
HC led, 19-18, at halftime, but the Chieftains, who have struggled at times this year with long scoring droughts in the second half, stayed the course last week at home.
"Even though we won the Holton game, I feel like we have steadily improved in finishing games," THS coach Shawn Phillips said about the overtime victory against Holton in the Tonganoxie Invitational. "We were fortunate to win versus Holton because we shot ourselves in the foot so many times down the stretch. Then, against Heritage, I felt like we handled playing with a lead late better."
THS shot 36 percent from the field in that game compared to Heritage Christian's nearly 32 percent. Both teams made 12 shots but HC had five more attempts (38-33) than Tonganoxie.
Dylan Staatz, LeeRoi Johnson, Klye Burge and Chandler Caldwell led Tonganoxie in scoring with 6 points each.
THS went 8-for-17 from the free-throw line, compared to Heritage Christian's 4-for-8. THS went 0-for-9 in three-point attempts, but outrebounded HC, 30-25.
THS 47, BW 38
The Chieftains had more breathing room in getting their first Kaw Valley League victory of the year Friday.
THS led by as many as 15 points and outscored the Cyclones in every quarter but the third (11-8). In fact, Tonganoxie never trailed against Bishop Ward during a game in which Staatz (11) and Rickard (10) scored in double figures.
"Against Ward, our shot selection was the best it has been by far all season long," Phillips said. "Our scoring was well balanced, and we shot the highest percentage we had all year."
THS shot almost 52 percent, including two three-pointers (2-for-6). The Chieftains also went 17-for-19 from the line, compared to Ward's 9-for-19.
The Ward game started a stretch of five consecutive road games. The team plays Friday at Piper, Tuesday at Bonnier Springs, Feb. 12 at Basehor-Linwood and Feb. 16 at Lansing.
The team's next home game is Feb. 19 against Turner.
"Now we have a big challenge in front of us," Phillips said. "We have to go play against some really good teams on the road. We will be tested both physically and mentally. 
"Hopefully we can transition these things over into those games as well and put ourselves in a position to win."
THS 32, HC 30
Score by quarters
HC  7  12  5  6 — 30
THS  10  8  8  6 — 32
THS scoring
Keaton Rickard 1, Dylan Staatz 6, LeeRoi Johnson 6, Kyle Burge 6, Tyler Novotney 2, Chandler Caldwell 6, Dakota Grey 5.
THS 47, BW 38
THS 12 12 8 15 — 47
BWHS 7 7 11 13 — 38
THS scoring
Logan Williams 2, Keaton Rickard 10, Dylan Staatz 11, LeeRoi Johnson 2, Kyle Burge 6, Tyler Novotney 8, Chandler Caldwell 6, Dakota Grey 2.