Tonganoxie High girls roll past foes for back-to-back victories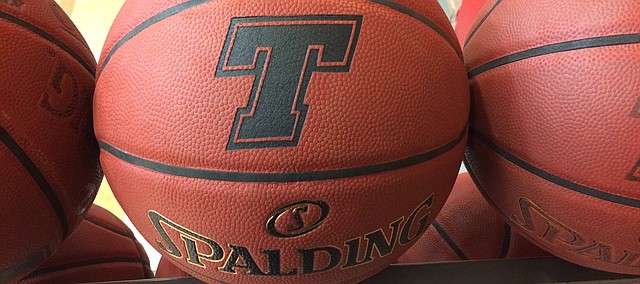 The Tonganoxie High girls basketball team found itself in an enjoyable place last week: the win column.
The THS girls defeated Heritage Christian, 57-34, Jan. 26 at the THS gymnasium. The squad followed up with a big victory Friday in Kansas City, Kan. Tonganoxie defeated Bishop Ward, 63-42, on the road and improved to 3-9 with the two-game winning streak.
The girls got started well against the Cyclones on Friday, pushing its lead to 15-4 after the first quarter. The Chieftains continued to maintain the lead and were up, 39-21, with 3:09 left in the third quarter. THS kept on the gas pedal and cruised to a 21-point win.
In the Jan. 26 game, Kaitlin Hall led the Tonganoxie girls in scoring with 20 in their victory, while Lauren Willson also was in double figures with 12.
Mia Bond contributed 5 points, while Mykah Wingerter, Lauren Jackson, Taylor Lee and Mackenzie Price each contributed 4. Rachel Schuck and Emily Eberth each scored 2 in the win.
Tonganoxie gained a lead in the first quarter and led, 12-6, heading into the second quarter against Heritage Christian. The team maintained the lead by outscoring Heritage Christian in the next three quarters. THS had 32 rebounds on the night, 21 of which were on the defensive end. Tonganoxie also had 15 steals, 11 assists and committed 13 turnovers. The Chieftains finished the night making 23-of-53 field goals, good for just more than 43 percent. The team made 20-of-37 shots from inside the arc, but was 3-for-16 from three-point land. And from the free-throw line, The Chieftains went 8-for-17.
Tonganoxie's game Friday in KCK kicked off a stretch of five consecutive road games. The team plays Friday at Piper, Tuesday at Bonner Springs, Feb. 12 at Basehor-Linwood and Feb. 16 at Lansing.
The team's next home game is Feb. 19 against Turner.