Board approves sale of former Tonganoxie Elementary School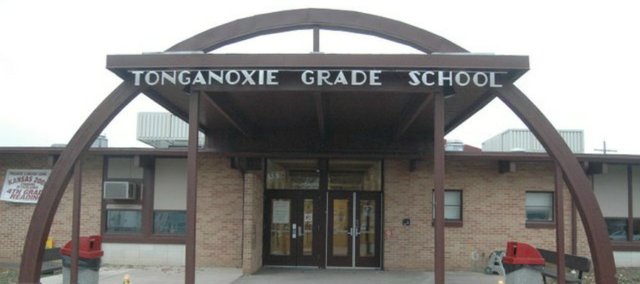 The former Tonganoxie Elementary School will serve a new purpose.
Tonganoxie School Board members approved, 6-1, a bid for $76,101 from Pat Studer of the Kansas City area.
According to district officials, Studer is looking to repurpose the property as a cabinetry business.
"I was fairly pleased with that amount," said Tonganoxie Superintendent Lyn Rantz.
The district had advertised the former TES and accepted bids until last week, but Studer had the lone bid.
Board president Dan Hopkins gave the dissenting vote.
The school property extends from Second Street to Fourth Street to the north and south, respectively, and Shawnee and Church from the east and west, respectively.
Payment on the building is due Feb. 26.
The downtown campus was a mainstay in Tonganoxie the past century, as it served varying levels of education at one time or another. The campus has solely been home to the elementary school the past few decades.
District voters approved a new TES school through a $27.2 million bond issue that passed in 2012. The new school opened this past summer near Tonganoxie Middle School off Washington Street.
Staff changes made
The board approved personnel changes at Monday's meeting.
The resignation of Sasha Feryok, sixth-grade language arts teacher, was accepted.
Sydney Prickett was hired to replace Feryok.
Other work agreements were for Andrew Phillips, facilities and grounds maintenance worker (filling new position) for 2015-16; Thomas Gifford, Tonganoxie Middle School voice co-director for 2015-2016 (this position only is for this year because it's a rotating position that only happens with musicals at TMS — it will terminate at the end of the semester); and Theodore Pantoja, special education bus paraprofessional (replacing Thomas Puthoff) for 2015-16.
The board also followed through with elimination of the instructional coach position at TMS and TES. An assistant principal position serving both TES and TMS will replace it in 2016-17. Nichole Gurwell is the current instructional coach, a position she accepted last summer. She previously was a TES teacher.
New courses approved
The district will have some additional course offerings in 2016-17.
The board approved courses at all three schools.
At TES, health will be offered with the ability to award a grade. Health was being taught, but without the ability to award a grade.
For TMS students, health and reading assistance courses have been included.
And at THS, 12 courses that current faculty will be able to teach have been added: advanced placement western civilization, freshman honors geometry, honors environmental science, economics, law enforcement II, forensic science, first aid/CPR, computer-aided manufacturing, painting I and II and drawing I and II.
Counselors commended
Tonganoxie USD 464 honored its school counselors at Monday's meeting with National School Counseling Week being Feb. 1-5.
Rantz recognized counselors Kelly Fredley, Jane Bennett, Donna Workman and Katie Welsh during Monday's meeting.
Rantz thanked the counselors for their efforts and said they served an integral part of student's education, whether it's the backpack program at TES with Welsh that helps students in need or Fredley heading the local Students Against Destructive Decisions chapter.
The superintendent gave them additional praise for being available to so many children. The national ratio for students-to-counselors is 400-to-1. Rantz said Tonganoxie counselors are are about 450-to-1 with districtwide enrollment just under 2,000.
The counselors were given gift baskets at the meeting.
Calendars approved
The board approved school calendars for 2016-17 and 2017-18.
Rantz said the calendars were similar to the current calendar. She said district officials tried to align its schedule as best it could with Basehor-Linwood because they share special education services, but there are some discrepancies because the school day is longer in Tonganoxie. That means USD 464 gets out for summer earlier. Spring breaks again will be in line with most Kansas regent universities.
The first day of classes for next school year will be Aug. 17. The last day of school will be May 17, 2017.