Tonganoxie readers show love on social media with #ihearttonganoxie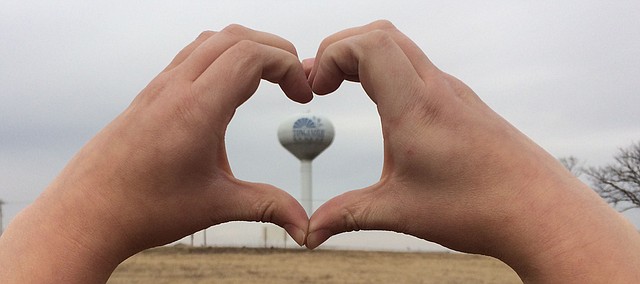 The flowers have been given and the chocolates most likely all consumed.
With Valentine's Day falling on Sunday, folks celebrated love for family and loved ones over the weekend.
In an effort to foster discussion on social media, The Mirror initiated a drive late last week for its readers to use the hashtag #ihearttonganoxie and share what they love most about Tonganoxie or their own community.
Tweets with the #ihearttonganoxie hashtag included "shout outs" to the Tonganoxie High School pep band and its drumline.
Another tweet lauded love for Tonganoxie's residents and the Tonganoxie Elementary School second-graders. Tabatha Regehr included a photo of TES second-graders at their recent concert.
Another tweet voiced being thankful for Tonganoxie having a grocery store and appreciating the improvements and expanded offerings at Brothers Market.
Another Twitter user happened to use #ihearttonganoxie more than a year ago to express excitement for a workout session at Free State Fitness.
Mirror editor Shawn F. Linenberger mentioned on Facebook that he loved the city for its walking trail system and how, in optimal weather, the sidewalks are buzzing with activity. He also said he loved that there's always something happening in the community.
Susan Freemyer weighed in on the comments section of the The Mirror's online story about the social media drive.
"I love the people of Tonganoxie," Freemyer wrote. "It's a safe place to live with great churches, excellent schools, hardworking employees at Tonganoxie City Government, excellent Tonganoxie Police Department, caring Tonganoxie Fire Department and business owners who invest in our community. Shop Local!"
The Mirror will continue to initiate discussions through social media.
Have ideas for future social media discussion topics?
Email your suggestions to Linenberger at slinenberger@tonganoxiemirror.com.