THS

boys roar back against Lansing, but Lions too much in second half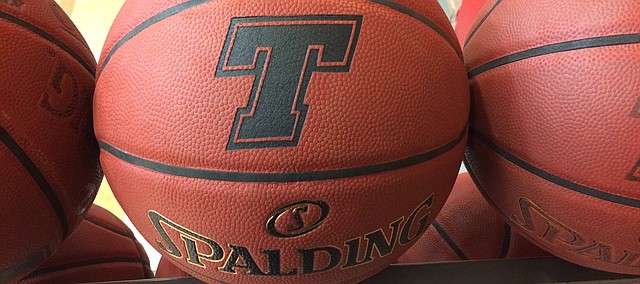 Lansing — Just three minutes and 30 seconds into the game, it seemed like it was going to be a long night for the visiting Tonganoxie Chieftains. The Lansing Lions hit five of their first six three-pointers, and before the Chieftains could even blink, they found themselves in a 19-0 hole.
"They came out and they were shooting it really well," Tonganoxie head coach Shawn Phillips said. "And we were horrible in our effort on the defensive end of the floor to start. They were getting a lot of uncontested looks and they made us pay for that."
But the Chieftain's defensive intensity picked up, and they fought back with a 17-2 run of their own to cut a 19-point deficit to just four at 21-17. With each basket from the Chieftains, roar from their bench – both players and coaches – seemed to grow louder and louder with each basket.
"We ran good offense and got some good looks ourselves," Phillips said. "We've tried to stress energy. That's the number one thing we talked about coming out (tonight). When things are going well, it's easy to have energy. When things are struggling, we've got to be able to still come up with that energy when things aren't going our way."

The Lions ended the half on a 16-6 run, and the Chieftains were never able to recover and they lost the game, 70-53, dropping their record to 3-14 on the season.
In the Lions 19-0 run to start the game, Lansing senior Sam Lorenzen made hit three shots from beyond the arc, and fellow senior Travon Tucker added two more.
Then Tonganoxie senior Tyler Novotney scored six of his 18 points to spark their run. But their energy really seemed to pick up when sophomore LeeRoi Johnson entered the game. He scored four quick points, and took a charge that ignited the bench.
"He's come a long way over the course of this year," Phillips said of Johnson. "He's only been playing for a couple of years. He gives us a physical presence. I don't even know if he knows how good he could be."
But the Lions showed their offensive versatility in their next run. After a perimeter explosion to begin the game, their 16-6 run to end the half was a product of junior Quinton McQuillan dominating the Chieftains down low to end the half.
The Chieftains hung around for most of the third quarter despite Tucker catching fire once again. He hit a few jump shots in the final two minutes of the quarter, but none of his game-high 20 points were bigger than his three-pointer to end the third quarter to put the Chieftains in a 51-34 hole.
"When they're knocking shots down from deep, they're really tough," Phillips said.

Tonganoxie sophomore Chandler Caldwell nailed a three to start the fourth quarter, and it looked like there may have been hope for a comeback. But the Lions went on one final run led by Tucker that put the Chieftains away for good.
Tonganoxie will look to snap its current four-game skid on Friday at home against Turner. It also will be Band Senior Night.