'Marijuana refugees': Kansas family hopes to move to Colorado to save daughter
LAWRENCE — A Kansas family is begrudgingly planning a move to Colorado in hopes of finding a medical treatment for its youngest member.
Valkyrie and Mitch Schmidt, of Lawrence, believe cannabis oil may be the last hope for their daughter, Emelyse.
At age 3, Emelyse has medical records longer and more complicated than most people will see in their entire lifetimes.
Along with intrauterine growth restriction, a rare condition in which a baby doesn't grow to normal weight during pregnancy, Emelyse suffered a severe brain bleed in the womb. She was born through an emergency cesarean section at 26 weeks, weighing just 14.8 ounces, Valkyrie said.
Emelyse suffered two more brain bleeds within the first couple of days of her life. When those finally clotted a month and a half later, her cerebrospinal fluid wasn't able to drain as it should. This condition, called hydrocephalus, had to be treated with a brain surgery called VP shunting, which then allowed the CSF fluid to drain properly, Valkyrie said.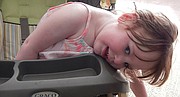 Emelyse spent the first four and a half months of her life in the hospital. Since then, she has been diagnosed with the lung disease bronchopulmonary dysplasia, or BPD, and two seizure conditions: epileptic encephalopathy and Lennox-Gastaut Syndrome, or LGS, a severe form of epilepsy.
Last April, Emelyse spent another six weeks at the Kansas University Hospital for a third VP shunt.
"She was still fighting it; she was still happy and bouncing and playful ... even with the fresh brain surgery," Valkyrie said.
Last month, on Jan. 22, the Schmidts went to Children's Mercy Hospital in Kansas City, Mo., for a procedure they thought would only require an overnight stay: Emelyse needed her tonsils out. A hyperactive gag reflex was preventing her from eating through her mouth, and she was instead fed through a gastronomy tube.
The surgery went well, and there were no complications, Valkyrie said. But as soon as Emelyse was transferred to the regular pediatric unit from pediatric intensive care, her blood oxygen level dropped and doctors had to restart her breathing.
After that, Emelyse was having more seizure activity and was almost constantly sleeping. Doctors discovered that one of her seizure medications was starting to destroy her pancreas, Valkyrie said.
She knows the doctors tried everything they could to help Emelyse, Valkyrie said, but on Feb. 9, they sent the Schmidts home with advice to make her as comfortable as possible.
"They sent us home telling us, 'There's nothing we're doing here that you can't do at home,'" Mitch said.
Emelyse's condition has declined, and Valkyrie said she's not happy the way she used to be. All she does now is lie in her crib or sit up in her high chair for feedings through the gastronomy tube, but she begins to fuss even before the feeding is done. She has no interest in playing, and she's been very irritable.
"I'm mad because this whole situation is still just insane to me," Valkyrie said. "Just getting her tonsils out has made her disease progress so rapidly. It's just hard to wrap my head around."
Still, the Schmidts have one last hope. A while back, Emelyse's primary neurologist said he thought her two seizure conditions made her a good candidate for cannabis oil. The parents thought that maybe in a year or two they'd try to "scrounge up" the money they would need to make the move across the state line.
"But it was never really a priority like it is now, because she was doing so much better before," Valkyrie said. "But now that she's like this, there's nothing else that we can do for her, except for this cannabis oil."
The only way they will try the treatment is entirely legally, Valkyrie said, despite offers from equally desperate friends and family members.
"If someone was to catch us, I would go to jail and Emelyse would go into (the care of the Kansas Department for Children and Families) and she would die in someone else's arms. And that thought is terrifying to me," she said.
The Schmidts have shared their story with friends, who set up a GoFundMe page to benefit the family. The fundraiser was just more than halfway to its goal of $10,000, at $5,495 as of Thursday afternoon.
The Schmidts hope to move to either Aurora or Colorado Springs. Valkyrie said there are large networks of support from other families who have moved to those communities for similar reasons.
Lisa Sublett, founder and president of the patient rights advocacy group Bleeding Kansas, said she continues to see more and more stories like Emelyse's emerge. The group hopes to change Kansas laws to allow use of medical cannabis so that patients can have safe access and discuss it with their doctors, as they would any other medication.
"You're dealing with people who can prove, medically, that they're out of options," Sublett said. "They've been through everything that regular medicine so far has had to offer them, and they should have a right, along with their health care providers, to make those decisions."
The Schmidts' case is similar to that of Ryan and Kathy Reed, who moved to Colorado from Baldwin City in 2014 in hopes of helping their son, Otis. According to a Lawrence Journal-World story from January 2015, Otis' condition has improved, and he "smiles on a daily basis," whereas before, "it could be months between smiles."
Families in these situations are often dubbed "marijuana refugees."
"That's kind of what we are: refugees having to flee where we're living just to try and save our baby," Valkyrie said.
Last month, the Kansas Senate stripped from marijuana reform legislation a House-passed proposal to legalize the use of therapeutic hemp oil to treat severe seizures, so that the idea could be studied further by another panel. The action to remove the provision, dubbed "Otis' Law" by sponsor Rep. John Wilson, D-Lawrence, came after emotional testimony from parents with children who regularly suffer severe seizures.
It won't be easy for the Schmidts to leave town. All of their family and friends live here.
"We've got a deadline, and we've got to make this happen, one way or another," Valkyrie said. "It's uprooting our entire lives for this, and it's hard but we've gotta do it if there's a chance to save her."
The Schmidts are extremely thankful for the support they've received from the Lawrence community, Valkyrie said, and they hope that sharing Emelyse's story will help others and raise awareness.
"It's not just her story, and it's not just our story," Valkyrie said. "There are hundreds, if not thousands, of other families going through the same situation that we are in Kansas."