Trump wins endorsement of Kansas Secretary of State Kobach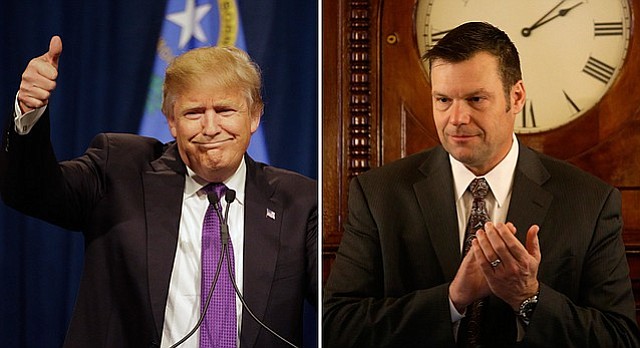 TOPEKA — Kansas Secretary of State Kris Kobach has endorsed billionaire businessman Donald Trump for president, citing his tough stance on illegal immigration, according to a Monday press release.
"I am pleased to announce my support Mr. Trump," Kobach wrote in the release, issued from his official social media feeds. "For me, the most important issue in the Republican presidential contest is immigration and its effect on our national security. On that issue, Mr. Trump stands head and shoulders above the other candidates. He has made it clear that ramping up the enforcement of our immigration laws will be his top priority.
"Now, more than ever, America needs Mr. Trump's aggressive approach to the problem of illegal immigration," Kobach continued, citing threats posed by radical Islamic terrorists potentially entering the county illegally. "Moreover, there are too many Americans who are out of work because of illegal immigration or who are working in jobs in which the wages are depressed because of illegal immigration."
Kobach expressed support for Trump's pledge to build a wall on the United States' border with Mexico and force Mexico to fund it.
"The United States has the ability to compel Mexico to pay for it," Kobach wrote in the release. "As I have discussed with Mr. Trump, the Patriot Act contains a provision that the United States can and should use as leverage with the government of Mexico."
Kobach is a former law professor who gained a national reputation for helping states and cities draft laws cracking down on illegal immigration before being elected secretary of state in 2010.
He is the first major Kansas elected official to endorse Trump ahead of the state's GOP presidential caucuses Saturday.
Republican Gov. Sam Brownback said last week that he'd vote for Trump if Trump were the GOP nominee, but the governor has endorsed Florida Sen. Marco Rubio.
State Treasurer Ron Estes also endorsed Rubio on Monday.
Super Tuesday
Meanwhile, the final-days sprint to Super Tuesday sparked a scramble among Republican candidates Monday looking to stop Trump from becoming an "unstoppable" force in the GOP primary contest.
Rubio and Ted Cruz continued to hammer the GOP front-runner's character and lack of policy specifics in a series of attacks while courting voters across the South. Trump, meanwhile, unapologetically bashed protesters at one of his rallies in Radford, Va., Monday, after he was interrupted during a speech about illegal immigration and Mexico.
"Are you from Mexico?" Trump shouted from the stage.
Several minutes of shouting and booing ensued. The crowd hooted and Trump briefly quieted them. Then he looked in front of the stage and asked a woman, "You have a problem? Get her out."
Trump has won three of four early voting states, roiling a party divided over the prospect of the brash billionaire becoming its nominee.
Cruz warned that the "Trump train" could become "unstoppable" if he rolls to big victories Tuesday. Cruz cast Trump as a carbon copy Democratic front-runner Hillary Clinton and suggested that not even Trump "knows what he would do" as president.
Rubio picked up Monday where he left off, dogging the GOP front-runner for not disavowing Sunday a white supremacist and the Ku Klux Klan.
Rubio says Trump's decision not to denounce the public support of former KKK leader David Duke disqualifies him from the nomination from "the party of Lincoln."
Trump told NBC's "Today" on Monday that he did not hear or understand the question Sunday on CNN when he was asked about Duke and the KKK, blaming a "very bad earpiece." He did disavow Duke's comments at a previous press conference.
— The Associated Press contributed to this report.