Lawrence couple opens bar in Tonganoxie's Myers Hotel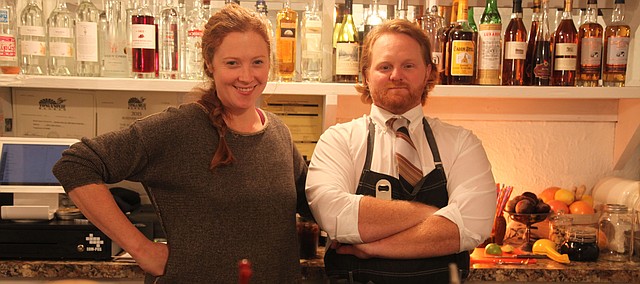 Lawrence resident Kate Brubacher always has enjoyed taking leisurely drives from the college town to points elsewhere.
One of those trips always included a drive on U.S. 24-40 to Tonganoxie. She'd pass by the Myers Hotel multiple times.
"My infatuation with the building started a long time ago," she said. "I would take drives outside of Lawrence. I'd always love driving to Tonganoxie. It's a beautiful drive."
The historic structure that once was the inspiration for William Inge's "Bus Stop" now is the impetus for Brubacher's libations and tonics in Tonganoxie.
Brubacher, along with husband, Jessie, opened up the Myers Hotel Bar last month. The easy-going venue with a unique list of cocktails is open 5 p.m. to midnight Thursdays through Saturdays.
Business so far has been encouraging.
"It's been wonderful," Brubacher said. "I think it's been 80 percent local business. Most are from Tonganoxie or around Tonganoxie. We don't know a lot of people.
"It's been really exciting. We have had, thankfully, a lot of repeat customers. It's been really fun to get to know people."
With an occupancy of 40 in the bar's interior, the space provides an intimate and warm setting. Mellow music plays in the background.
That's how Brubacher likes it for this particular bar.
She previously was bar manager at John Brown's Underground, 7 E. Seventh St., in Lawrence. She set the menu and the concept when that bar initially opened last year.
But with two children — Henrietta's almost 3 and Rhubarb is 8 — the long hours at John Brown's weren't jiving with family life.
"It wasn't conducive to our lifestyle," she said. "Truthfully, we wanted a more inclusive environment. If people want to bring their kids or go on a walk with their dog, they can have a beer on the patio."
Once the new bar gets established, the couple hopes to add food to the mix. That might be in the form of inviting in food trucks or crafting some of their own offerings. In the spring and summer, they'll look at having a beer garden on the patio and, perhaps, music.
For now, the couple is focusing on just getting started. Jessie, originally from Walton northeast of Newton, works full-time as an architect for various national and international events.
Kate, 34, grew up in Lawrence and met Jessie, 35, in graduate school at Kansas University.
"I have an expensive degree that I don't use on a daily basis," Kate said with a laugh, referring to her architecture degree.
The Brubachers' agreement with Myers Hotel owners Kay Soetaert and Mary Cronemeyer stipulates that they serve at events, so their offerings will be at some hotel happenings.
RC Cola is a staple at her bar and is an ingredient in one of Kate's most popular drinks, the Dog and Squid: a house red wine, Kraken rum and her favorite cola.
The Sweet Earth, a combination of beet juice, passionfruit and liquors also is popular. The bar features eight signature cocktails along with various wines and beers.
Kate hopes the bar will be a regular stop for residents near and far.
"We want to be inclusive," she said. "We to be inviting to as many people as possible."