Face to Face: Tonganoxie
USD

464 Board Member Kaija Baldock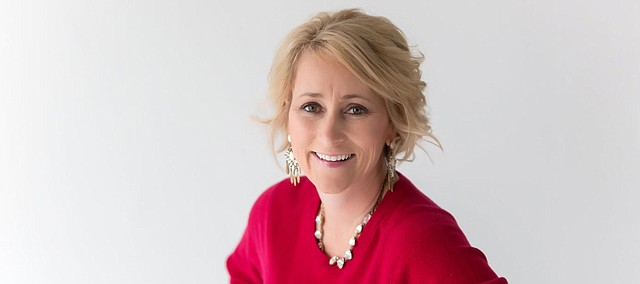 Name: Kaija Baldock
Born: Nov. 6, 1973, in Darlington, Wis.
Family: Husband, Thad, originally from Alma in Wabaunsee County; four children, Hattie, a Tonganoxie Middle School sixth-grader, Remi, a Tonganoxie Elementary School fifth-grader, Kasia, a Genesis Christian Academy fourth-grader, and Kalea, a GCA second-grader.  
Occupation: Stay-at-home mother. She was elected last year to the Tonganoxie USD 464 School Board and is a board member for the Tonganoxie Booster Club. She has also served many years on GCA's Night of Knights fundraising committee.
Dream job as a child: Member of Congress. Her uncle, Steve Gunderson, served eight terms in the House of Representatives.
"I grew up attending political events and walked multiple parade routes holding a sign that read, 'Vote for my uncle Steve!'" she said.
Interesting fact: Baldock played 6-on-6 basketball in junior high and high school.
"You could only dribble twice," she said. "I was a guard, which meant that I never shot the ball."
Digging deeper: Baldock is a 1992 graduate of Decorah High School in northeast Iowa. In 1996, she graduated from Pepperdine University in Malibu, Calif., with a degree in public relations and political science. Following graduation, she worked as an account executive for a Los Angeles-based public relations firm, Stoorza, Ziegus and Metzger, and later in corporate communications for a Santa Monica, Calif.-based company, Cadiz Inc.
After moving back to the Midwest, she sold residential real estate for JC Nichols and Prudential. In 2000, she met her husband on a blind date. They married in 2002.
The couple and their four children moved to Tonganoxie in 2008.
"Thad and I both grew up in small towns, and we wanted to raise our children in that same environment," she said. "The central location and the friendliness of the community helped us make the decision to call Tonganoxie our home."
For entertainment, she loves to watch her children participate in their extracurricular activities. She admits she might get a bit loud cheering on her children. Otherwise, she enjoys sneaking away to a country music concert, the mall, the lake to water ski or spend time with family and friends.