Human foosball comes to Shawnee with new business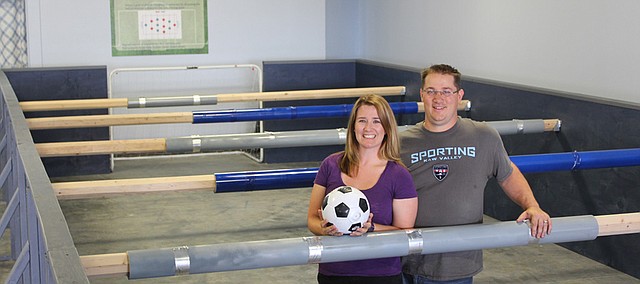 Brittany McWilliams was intrigued when she kept seeing suggestions for how to play human foosball on social media.
She loved the idea but wondered how many people were really trying it.
"How many times do we pin something on Pinterest and then not do it? I think people are interested, I think it's something to do and something different," she said. "I kept seeing it pop up here and there, and I was like, 'Well, if I build it, then they don't have to worry about it.'"
It took a little bit of convincing with her husband, Lucas McWilliams, but the Tonganoxie couple came to an agreement and opened Kick It Foos, featuring two human foosball courts and several other family-friendly games, on June 22 in western Shawnee.
The McWilliams hoped to create Kick It Foos as a good alternative for everything from birthday parties to corporate team building.
With an almost 10-year-old son, the couple say they already have experienced firsthand the difficulties of planning parties for children as they get closer to middle school age.
"I think there's lots of stuff to do for kids' birthday parties up to a certain age, and then you've done it all and you're kind of like, OK, now what do we do?" Brittany McWilliams said.
Before opening, the McWilliams did a lot of research and couldn't find anything similar in Kansas City, though they did find a human foosball business in St. Louis.
She said she thought Kick It Foos may help build an appreciation for more old-fashioned games — when they purchased a larger version of Connect 4 for the business, she realized her children probably hadn't ever played the game before.
"A lot of it was thinking, so many times kids are grabbing electronics to stay entertained," she said. "I was like, 'This is what we always used to do; why do we need to be connected to electronics all the time?'"
After a labor-intensive design process to create the two foosball courts, the McWilliams included about six other games, including Foot Pool and a large-sized version of Jenga, and already have a few ideas for future additions.
Lucas McWilliams grew up in Shawnee, and several of his family members still live here, but he said what brought them to 8166 Monticello Terrace in western Shawnee for their business was the location's proximity to Kansas Highway 7.
"Close to the highway, kind of convenient to Lawrence, to Overland Park, to Olathe, to Shawnee," Lucas McWilliams said.
Though they hope to offer drop-in days and other options in the future, currently, Kick It Foos is available only by reservation, with costs ranging from an hour's use of the foosball court for 12 participants to longer periods of time with use of the party room. Details are available online at www.kickitfoos.com.