Tonganoxie youths gearing up for 'Midsummer Night's Dream' productions Friday and Saturday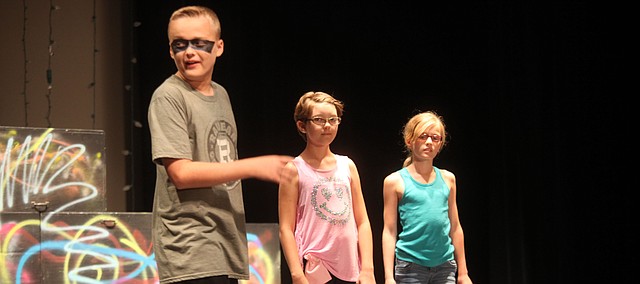 Elizabeth Higbee prepares year-round for the Tonganoxie Recreation Commission's youth theater production.
This is the Tonganoxie High School graduate's third year directing the annual play.
The first year, she directed "Tom Sawyer" before staging a musical last year with "Cinderella."
Right after last year's production concluded, she went to work selecting a production for this year, which is Shakespeare's "A Midsummer Night's Dream."
Higbee said she wants each play to be considerably different than its predecessor. And, a theater major herself in college, thought it would be a plus for local youths to do Shakespeare at a young age.
"This year the kids are very, very talented," she said. "You go into children's theater to learn a lot and to grow … I knew that I could really challenge them."
She said the Tonganoxie production won't stray from the Shakespeare's script created years ago.
"Original language; no changes," Higbee said.
This year's play has nearly 60 local youths set to perform.
Auditions took place around Memorial Day, with youths rehearsing two to three days each week for about four hours each day. That time fluctuates a bit, as some cast members rehearse for a portion of that time. And, the rehearsals are filled with breaks for the youths.
A Midsummer Night's Dream will be staged at 6 p.m. Friday and 11 a.m. and 6 p.m. Saturday at the Tonganoxie Performing Arts Center on the Tonganoxie High School campus.
Admissions is free, though canned goods or monetary donations can be made at the door for Good Shepherd Thrift Store and Food Bank.
Lilly Pruitt will play the role of The Dreamer, while Madison Schiffelbein will be Puck. Lauryn Jimenez will be Moth, Katelyn Bothwell will play the role of Cobweb and Theresa Roe will be Mustardseed.
Mary Kate Dial will take on the role of Peaseblossom, Dustin Robinson will be Theseus and Kristian Perez is Hippolyta.
Additional youths taking on roles for the play are Noah Dial (Philostrate), Matt Burke (Egeus or Egeia), Lauren Lawson (Hermia), Lachlan Bond (Lysander), Will Kouns (Demetrius), Emilie Crowley (Helena), Payton Lynn (Quince/Prologue), Joel Moraille (Snug/Lion), Mark Mast (Bottom/Pyramus), Sarah Dunkle (Snout/Wall), Caroline Keene (Flute/Thisbe), Anna Edmonds (Starveling/Moonshine), Caden Phillips (Oberon) and Malena Bond (Titania).
Courtiers/attendants will be Conner Vestal, Wyatt Moody, Anthony Roe, Maddie Sommers, Kasia Baldock, Isabella Estes, Sonya Khounmixay, Analisa Estes, Hannah Kouns, Caley Bradley and Hattie Baldock.
Oberon's Fairy Band: Cole Bennett, Henry Wah, Silas Cooper, Angelo Moraille, Aiden Strouhal, Joseph Mast and Gabriel Meitler.
Titania's Fairies will be Lillianna Sanderson, Grae Vanderweide, Maddie Pruitt, Ella Pruitt, Allyson Albert. Alyssa Novotney, Alaina Rogers, Willow Cooper, Maria Roe, Corinne Morgan, Hadlie Black, Willow Rademacher, Josie Owens, Eliana Moraille and Anna Gepner.
Higbee, who graduated from Southwestern College in Winfield with a degree in theater performance, performed with some traveling theater companies. She also has assisted with Tognanoxie High School and Tonganoxie Middle School productions in recent years. Some THS theater students also are assisting with the youth play.
Higbee also works in retail, but is planning to continue her education in September when she moves to Wisconsin to pursue a degree in theater education.
"Education is fun and all," Higbee said. "But I really enjoy teaching."