Tonganoxie
USD

464 moving end-of-year balance to help cover facility improvements
Brandon Parker resigns as teacher, coach in school district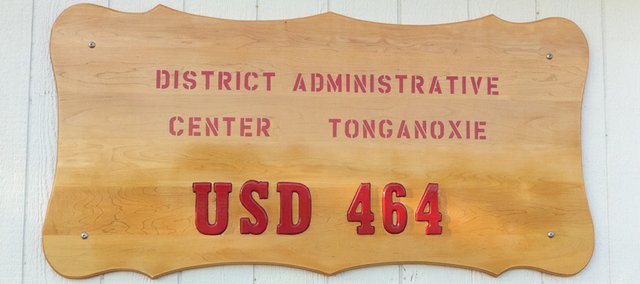 Tonganoxie USD 464 will be looking to address capital improvements in the coming school year.
New Superintendent Chris Kleidosty told the board the district's end-of-year transfer balance was about $269,000.
He said in talking with personnel, it was his recommendation to earmark those funds for capital outlay to address some improvement projects that are in need of completion. One candidate is updating the district's track at Beatty Field.
Kleidosty also told the board that although it's good to have that transfer balance, districts normally carry a balance into the new budget year and that it's lower than balances he's been accustomed to in smaller districts. He said generally balances are between $300,000 and $400,000.
The board approved the transfer to capital outlay by a 4-0 vote. Board members Amelia Brusven, Bryan Kemp and Dan Hopkins were not at the meeting.
The meeting also marked Kleidosty's first as leader of Tonganoxie USD 464.
Patrons had the opportunity to meet Kleidosty during a reception that started 30 minutes before the regular meeting.
Parker, board reach agreement
Tonganoxie teacher Brandon Parker has resigned.
The board approved Parker's resignation at Monday's meeting. He was a part-time Tonganoxie Elementary School physical education teacher, Tonganoxie Middle School assistant basketball coach and TMS assistant football coach.
Kleidosty said the board and Parker settled on a separation agreement that included Parker's resignation.
Parker's employment had been a major topic in recent months at board meetings. The board continued to delay a decision on whether to renew his contract.
During a special May meeting, the board voted, 4-3, to table the item until the state decided in June whether to censure the teacher. The vote came after roughly 200 patrons attended the meeting, with three designated patrons speaking in favor of retaining Parker.
Board Members Bryan Kemp, Michelle McGhee and Kris Grinter voted against the measure in May.
Parker came to THS in 2001 as a volleyball coach assisting his wife, Tiffany. Both had other full-time jobs, but eventually took courses to become educators. Tiffany continues to teach kindergarten at TES and coach volleyball at THS. Brandon formerly taught part-time at the middle school and was the THS athletics director. He resigned as athletics director roughly a year ago after serving as AD since 2002.
Last year, the school board voted to terminate former principal Jamie Carlisle's contract for three things claimed at the time: establishing a school bank account without proper authorization, use of computers contrary to district policy, and obtaining or attempting to obtain a school administrator's license for another district employee from the Kansas Department of Education by fraudulent means.
The final reason involved Parker, who had sent in an application to the state to see whether he met certain certification.
That document had been the subject of investigations, including one through the Leavenworth County Sheriff's Office. The sheriff's investigation did not uncover any wrongdoing, according to Parker. He declined to discuss particulars of the matter at the May meeting.
At the Kansas State Board of Education meeting last month, the board voted, 10-0, for publicly censure Parker and Carlisle.
During a meeting Parker had with supporters the night of the special meeting in May, Kansas National Education Association representative Linda Brungardt, explained that the censure was the lowest level of discipline and would be in effect for two years if implemented.
Other resignations the board accepted were from Christine Janssen as Tonganoxie Elementary School cashier, Sherrie Evans, Tonganoxie High School language arts teacher, Brigit Little, THS kitchen manager, and Debbie Church, general education regular route bus driver.
The board also approved work agreements for Crystal Weaver, transferring from dishwasher to cashier (replacing Janssen); Loretta Muha, TES cook (replacing Rita Emery); Caitlin Almond, THS language arts teacher (replacing Evans); Maddie Bacon, THS special education para-education (replacing Joe Malec); and Megan Bundy, THS education para-educator (replacing Mindy Lux).
New board president
Michelle McGhee is the new Tonganoxie USD 464 School Board President.
The board made its appointments for the one-year term, as Hopkins, who had been board president, was named the new vice president.
The board voted, 5-0, in favor of the appointments. Hopkins was absent, but was called and put on speaker phone during the meeting to cast his votes.
Board drops additional insurance
The board approved Kleidosty's recommendation to no longer offer additional student accident insurance that covers both Kansas State High School Activities Association activities and one that does not.
The move is expected to save the district roughly $13,400.
Kleidosty said no patrons who used the insurance collected on it in 2016.
From 2011-15, premiums paid outweighed benefits paid each year.
Board members debated the issue for some time last year before eventually voting for the added insurance.
School board documents online
The board's agenda and documents all are going digital.
Patrons will be able to access the board meeting agenda and information in advance of the meetings.
Starting with the next board meeting, the documents will be available online at tong464.org.
Special meeting scheduled
The board will have a special meeting for 6 p.m. Aug. 22 at the Tonganoxie Elementary School library for a public hearing on the upcoming budget. Kleidosty said he continues to work on a budget proposal and at this point as unsure how the budget might differ from the current year's mill rate.
Old lockers to salvage yard
Former lockers on the Tonganoxie High School west campus have been replaced and are in need of disposal, according to information sent to the board from maintenance director Bill Seymour.
The lockers are in poor condition. Seymour said in the email that the lockers could not be reused or repurposed because of their poor condition.
The board approved, 4-0, Seymour's recommendation to have Carl Pape handle removal of the lockers. Instead of a removal fee, Pape will receive 50 percent of what the salvage yard pays out for the lockers. An amount has yet to be determined.