Tonganoxie hoping
TV

celebrity will make surprise visit for this weekend's sesquicentennial celebration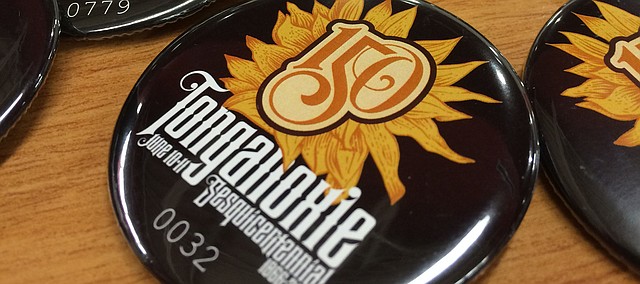 Tonganoxie is celebrating 150 years of existence today and Saturday.
Organizers have been pulling out all the stops to spread the word.
They're even trying to get a TV actor to make an appearance.
Eric Stonestreet, who plays Cameron Tucker on ABC's critically acclaimed sitcom "Modern Family," is from nearby Piper in Kansas City, Kan.
On the show, Cam's fictional hometown is Tonganoxie, Mo., a nod of sorts to the real deal in Kansas.
Organizers have tried different ways to entice Stonestreet to help celebrate, including a social media drive.
Folks are asked to tweet to Stonestreet, @ericstonestreet, and invite him to Tonganoxie for the event. Twitter users also are encouraged to use the hashtag #ComeHomeCam.
For instance, one Twitter user wrote "You used our name, this shall be payment. Please come to the Tonganoxie Sesquicentennia!, while another wrote "The fact that the Tonganoxie Sesquicentennial is a real thing is reason enough to come for @ericstonestreet to come. #ComeHomeCame #onceinalifetime.
Another tweeted to Stonestreet offering lodging: "You can crash at my place!"
The festival will offer activities and exhibits about Tonganoxie's history, food and non-food vendors, numerous children's activiteis, a library 5K/10K run/walk, barbecue contest, VFW car show and more than 25 entertainers performing on three stages throughout the weekend. Big Jay and Willie the Wildcat, mascots for Kansas University and Kansas State University, respectively, also will be making appearances.
Raffle cash prizes also will be drawn and a beer garden will be offered.
The community also put together a lip dub video to promote the event with help from Topeka's Gab Local.TV. A full schedule and more information about the event also is available.
No word on whether will Stonestreet will be in town, but organizers hope the twitter communication will serve as a fun way to get the word out about the event.