Tonganoxie, McLouth student-athletes named to all-Lawrence Journal-World teams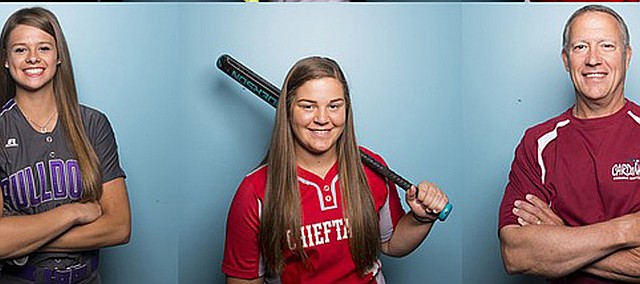 Kaw Valley League coaches recognized the talents of Tonganoxie High student-athletes competing in spring sports, but the THS team members also are getting recognized elsewhere in the area.
The Lawrence Journal-World recently released its all-area teams, with several THS student-athletes, as well as some McLouth High student-athletes, earning accolades.
THS and MHS both landed first-team selections in softball.
For Tonganoxie, it was Audrey Miller.
Not many base-runners tried to steal on Miller, a sophomore catcher. Helping her team to a 9-10 record, Miller had a .517 batting average with seven home runs, 25 runs scored and 23 RBI.
McLouth's Shannon Greene also earned first-team honors.
A big reason the Bulldogs posted a 16-5 record, Greene was dominant in the pitcher's circle and had a big impact at the plate. The University of St. Mary signee had a 1.85 earned-run average, striking out 77 batters in 60 2⁄3 innings. Greene hit .508 with six doubles and 18 RBI.
Oskaloosa's Haidyn Bassett was named this year's Player of the Year. She tossed 10 shutouts and five no-hitters for the Bears, striking out 149 batters in 79 innings with a 0.44 ERA. She also hit .613 with nine homers and 43 RBI. She's headed to South Dakota State and is the OHS' first Division I female athlete.
Eudora's Bill Finuacane is the softball Coach of the Year. Eudora finished 16-7 after narrowly slipping past THS at a Class 4A Division I regional in Tonganoxie. It was EHS' first state appearance since 2007.
Track
Tonganoxie's Dylan Staatz was named a first-team all-LJW selection in boys track. Staatz placed fifth in the long jump, fifth in the triple jump and eighth in the high jump at Class 4A state. The Chieftains' senior won a Kaw Valley League title in the long jump and was runner-up in the high jump.
Tonganoxie's LeeRoi Johnson, who placed at state in discus, made honorable mention.
De Soto's Travis Hodge was Athlete of the Year and Lawrence's Jack Hood was Coach of the Year.
In girls track, Tonganoxie's Mia Bond and Sierra Staatz earned honorable mention recognition, as did McLouth's Anna Moore. Bond and Sierra Staatz helped THS to school-record times in relay competitions that resulted in state placings.
Baldwin swept Athlete of the Year (Kelsey Kehl) and Coach of the Year (Ted Zuzzio) honors. BHS has won the last four Class 4A girls state team titles.
Girls soccer
Tonganoxie High's Amanda Martin, a junior midfielder, was the biggest offensive threat for the Chieftains, ending the season with eight goals and eight assists. A first-team All-Kaw Valley League pick, Martin helped her team to five victories. THS fell to Bishop Miege, 3-0, in the first round of the Class 4-1A playoffs, but Bishop Miege went on to win the state crown.
THS teammates and seniors Kaitlin Hall and Mackenzie Price earned honorable mention recognition.
De Soto's Tanith Bell was Player of the Year after leading the Wildcats to their second straight 4-1A state tournament appearance. She had a team-best 20 goals, along with 13 assists.
Mill Valley's Arlan Vomhof was this season's Coach of the Year, guiding the Jaguars to a fourth-place finish in 5A and an 18-3 record.
Baseball
Tonganoxie catcher Billy Kelley was named as an honorable mention selection, as was McLouth's Brady Troupe.
Free State pitcher Hunter Gudde, a right-hander with a 0.38 earned-run average in 55 2/3 innings, was Player of the Year. He will compete at Johnson County Community College next.
Eudora's Wilson Kilmer was named Coach of the Year after leading the Cardinals to their first state appearance since 2006 with an 18-5 record in Class 4A Division I.
— Shawn F. Linenberger contributed to this story.