Youths attending the Tonganoxie Sesquicentennial had the opportunity to see Big Jay, the University of Kansas mascot.
Next week, youths again will have a chance to see a Jayhawk come to life — this time through a new children's book.
At 10:30 a.m. next Wednesday, June 29, author and illustrator Greg Hardin will be on hand at Tonganoxie Public Library promoting his new children's book, "When I Grow Up, I Want to be a Jayhawk."
The book follows a youthful Jayhawk with aspirations to one day go to the University of Kansas.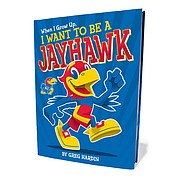 Featuring storybook artwork from Hardin, a KU alumnus, the lighthearted rhyming tale is a celebration of KU's history and tradition, along with an exciting preview of college life and the value of higher education.
Hardin graduated from KU with a bachelor's in design and illustration. He previously worked as a licensing illustrator for animation studio Big Idea Productions and then Hallmark Cards, Inc., where he worked on properties such as Star Wars, Marvel, DC Comics, Disney, Pixar, DreamWorks and Cartoon Network, among others. He has illustrated 70 children's books.
"Throughout my career, mostly working with the world's most famous cartoon characters, I've always wanted to give the star treatment to the glorious Jayhawk," Hardin said. "I decided to make this dream a reality."
The story embraces an enthusiastic young Jay who has big dreams of becoming amazing things, with none bigger than becoming a Kansas Jayhawk.
"In this book, the Kansas Jayhawks are given the prestige treatment usually reserved for high profile animated properties," says Hardin.
At next week's appearance in Tonganoxie, one youth also will receive a special poster based on the book.
Some might also recognize Hardin's wife, Ashley Hardin, who is coordinator for Leavenworth County Development Corporation.
KU fans embraced the book project through a Kickstarter project that exceeded its campaign goal and ended in December 2015.
"When I Grow Up, I want to be a Jayhawk" is an officially licensed, 32-page hardcover book.
The book, as well as an 18x24-inch poster and 16x20 art print from images in the book are available at area retailers: The Raven Bookstore, Jock's Nitch and Framewoods Gallery in Lawrence; Rainy Day Books in Fairway; and The Monogram Shop, The General Store and Unique Fields in Overland Park, along with other select retailers.
A launch on Amazon.com won't happen until Sept. 1 as a good faith effort to local retail partners.
"When I Grow Up, I Want to Be a Jayhawk" is published in partnership through Mascot Books and Big Cheer, LLC.
To get a first-hand look at the book, visit next week's event at the Tonganoxie Public Library, Third and Bury streets.