Multiple medalists from Tonganoxie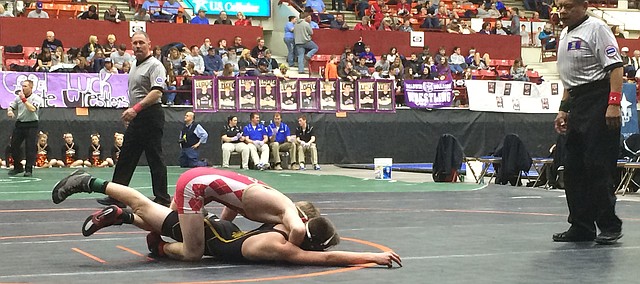 It was another season of state medals for the Tonganoxie High wrestling team.
THS landed three medals at Saturday's Class 4A state tournament, equaling its school-record best set in 2013 and tied in 2014.
THS finished 18th at the state meet with 40.5 points. Colby won the state meet with 120 points, while El Dorado took second with 91 and Pratt third with 82. Former Kaw Valley League member Santa Fe Trail finished sixth (56), while Basehor-Linwood was the highest finishing current KVL member at 13th (46).
THS sophomore Aidan McClellan placed fourth, freshman Korbin Riedel fifth and sophomore Gad Huseman sixth in their respective weight classes. Caden Searcy, Justin Hand and Devin Duncan also competed, but did not medal.
McClellan, at 113, defeated Chapman sophomore Colin Henderson (18-17), by major decision, 11-3, in the first round, before pinning Frontenac freshman Riley McDaniel (37-9) at the 3:25 mark of their match. McClellan then lost to Pratt junior and eventual state champion Dylan Pelland (37-3) by fall at the 2:51 mark. McClellan bounced back with a victory against Burlington freshman Ethan Totty (41-9), 3-0, on the consolation side. He then lost to Concordia sophomore Zach Strait (42-9), in the third-place match, 8-2. McClellan finished the season 18-12.
Riedel, meanwhile finished the season at 46-11. Wrestling at 120, the freshman defeated Fort Scott sophomore (17-17) Kyle Montojo by fall at 1:59. Colby junior Tate Carney (43-9) defeated Riedel, 13-7. Riedel bounced back with wins against Baldwin sophomore TJ Hopper (27-10) and Abilene sophomore Trevor Casteel (36-13) before losing to Pratt junior Brayan Balderrama (40-9). He then placed fifth with a 7-1 victory against Lousiburg junior Nathan Keegan (32-15).
Huseman started state off with a 9-3 victory against Abilene's Cody Wuthnow (32-17) at 126. He then had to advance through the consolation bracket, defeating Fort Scott senior Phillip Moran (23-17) by fall and then Ottawa sophomore Jared Parenti (37-15) before losing to Smoky Valley junior Austin Lustfield (39-4). Goodland senior Tristan Cooper (45-9) won the fifth-place match, 4-3, ending Huseman's season with a sixth-place medal. Huseman finished the season at 39-16.
Searcy went 1-2 in the tourney at 145. He defeated Smoky Valley junior Austin Golden (22-13), 4-2, and then lost to Fort Scott sophomore Zarek Fewell (41-12) by fall at the end of the match. Colby senior Andrew Voss (34-22) ousted Searcy with a 13-2 major decision in the consolation bracket. Searcy concluded the seasons 33-14.
Hand concluded his sophomore season with an 0-2 showing at state. Hand finished the year with a 26-21 record after losses to Frontenac junior Brandon Miekus (44-6) and Colby senior Matthew Pieper (35-18).
Duncan competed in Tonganoxie's heaviest weight — 170 and went 1-2 on the weekend. He finished the year 21-15 after losing to Parsons senior Dyaln Misener and then defeating Clay Center junior Ryan Tiers (35-14). Columbus junior Peyton Hale (28-13) ended Duncan's season with a 4-2 decision.
Garden City won the state title for the fourth straight season in 6A, while Goddard won 5A. Norton won the 3-2-1A crown.