Walk Kansas ideal way to jumpstart healthy lifestyle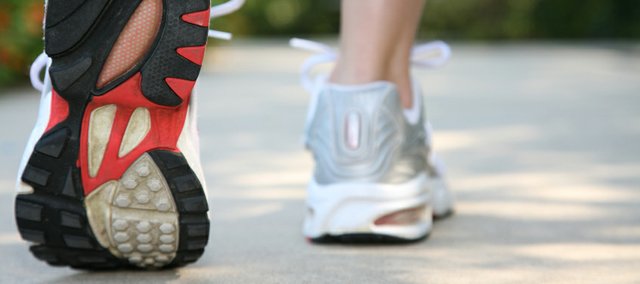 Population health research tells us that there are many factors that influence health status, including genetics, social circumstances, environmental exposures, health care and behavioral patterns.
What most people might not fully realize is that behavioral patterns have the single greatest influence on personal and population health.
A community health improvement strategy known as 3-4-50 is based on evidence that three health behaviors elevate risk for four chronic conditions that together cause more than 50 percent of deaths. Originally developed by the Oxford Health Alliance, the evidence indicates that the core elements of 3-4-50 are strikingly relevant and consistent at the national, state and community level.
The three identified health risk behaviors are unhealthy diet, sedentary lifestyle and tobacco use. The four chronic conditions are cardiovascular disease, cancer, chronic lower respiratory disease and diabetes. These four conditions cause more than 50 percent of all deaths in that vast majority of communities.
Kansas specific data reveals that fewer than half of Kansans meet the minimum recommendation for physical activity, 150 minutes per week according to the Physical Activity Guidelines for Americans and only 19 percent of Kansans consume the recommended number of 5-9 servings of nutrient rich fruits and vegetables recommended by the Dietary Guidelines for Americans. Chronic disease, including obesity, is responsible for more than 70 percent of health care costs in Kansas.
I've often heard it said that the only one who likes change is a baby with a wet diaper. Making a change in healthy behaviors like better food choices or getting more exercise can be one of the most difficult changes to make. For 15 years, the Walk Kansas program has helped thousands of Kansas take the all-important first step towards a healthier lifestyle.
The eight-week program offered by Kansas State University Research and Extension, will give you support and encouragement be more active with friends and family, make better nutrition choices, and help you walk away your stress. As a team of six, you will choose one of three challenges on a virtual walk across Kansas. Challenge 1 travels 423 miles east to west across Kansas. Challenge 2 meanders diagonally across Kansas from Troy in northeast Kansas to Elkhart in southwest Kansas for 763 miles. Challenge 3 takes you around the perimeter of Kansas, for 1,200 miles. As you and your team input your data into the online tracking system, you will learn a little about some Kansas points of interest along your journey. Participants will also receive weekly newsletters and access to local events and programs.
Registration for Walk Kansas is open until April 1 and can be completed online at walkkansas.org.
There is an $8 per person registration fee (waived for youth under age 18) for the program and T-shirts are available for an additional fee. For more information on the Walk Kansas program, visit the website or contact Denise Sullivan at dsulliva@ksu.edu.
­­— Denise Sullivan is the Leavenworth County extension agent for family and consumer sciences through Kansas State University.