Tonganoxie School Board again tables contract decision for Parker; 200 attend meeting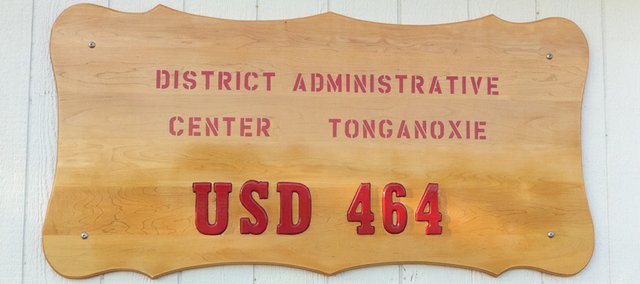 Editor's note: An earlier version of this online story said that Brandon Parker's contract as athletics director was not renewed last year. Parker instead resigned from the position.
The Tonganoxie School Board again has tabled a decision on whether to renew a teacher's contract as roughly 200 patrons looked on at Monday's special meeting.
The board voted 4-3 to table the item until the state decides next month whether to censure the teacher.
Board Members Bryan Kemp, Michelle McGhee and Kris Grinter voted against the measure.
The board originally scheduled the special meeting to discuss selection of finalists for the district's new superintendent Monday at the Tonganoxie Middle School library.
However, at the previous week's regular meeting, Board Member Kaija Baldock requested to table the item until this week. That motion passed with Grinter and McGhee voting against.
On Monday, the board allowed three people to speak at the meeting during patron comments to address the non-renewal of Tonganoxie Elementary School physical education teacher Brandon Parker.
Patron Martin Olson, former teacher and coach Phil Williams and Cole Parker, Brandon's son and a TES fifth-grader, all spoke in favor of the teacher.
Olson, whose son, Connor, battled cancer as a THS student, died at the age of 18. A special graduation ceremony took place for Olson in the Tonganoxie Performing Arts Center so that he could receive his diploma.
Olson praised Parker for his work with students throughout the district and especially with students during some difficult times of classmates dying from various illnesses and other challenges the district faced.
On Monday, the patron whose third and youngest child just graduated Saturday, told the board it needed to retain Parker.
"I believe we are at a watershed moment locally," Olson said. "Collectively we need to decide if we are going to continue on the current path of political chicanery or if we are going to look at what is in the best interest of the students of Tonganoxie."
Parker came to THS in 2001 as a volleyball coach assisting his wife, Tiffany. Both had other full-time jobs, but eventually took courses to become educators. Tiffany teaches kindergarten at TES, while Parker is a part-time TES PE teacher who formerly taught part-time at the middle school and was the athletics director.
Parker resigned as THS athletics director roughly a year ago after serving as AD since 2002.
Last year, the school board voted to terminate former principal Jamie Carlisle's contract for three things claimed at the time: establishing a school bank account without proper authorization, use of computers contrary to district policy, and obtaining or attempting to obtain a school administrator's license for another district employee from the Kansas Department of Education by fraudulent means.
The final reason involves Parker, who had sent in an application to the state to see whether he met certain certification.
That document has been the subject of investigations, including one through the Leavenworth County Sheriff's Office. The sheriff's investigation did not uncover any wrongdoing, according to Parker. Though he declined to discuss particulars of the matter until a decision was made at the state level, many in the crowd of 200, including several fellow teachers, seemed to be in full support.
Patrons clapped on several occasions while listening to others' comments.
The applause was especially loud for Cole Parker, who spoke to the board while being flanked by several baseball teammates wearing their Tonganoxie uniforms.
The board met in executive session for 2 hours, 20 minutes to discuss non-elected personnel before Board President Dan Hopkins addressed the patrons.
He said he has worked to be as transparent as possible as the board's president and thanked the patrons for attending. He also noted that it was discipline recommended by the state.
While the board met in executive session, Parker spoke to supportive patrons in the TMS gymnasium. Various students' eyes filled with tears as emotions ran high.
Kansas National Education Association representative Linda Brungardt, whom Parker said has been helpful through the entire process, explained that the censure was the lowest level of discipline and would be in effect for two years if implemented.
Superintendent Lyn Rantz was not at the meeting. Hopkins said after the meeting he advised Rantz not to attend because the meeting involved the superintendent candidate search and she's not part of that procedure.