High voter turnout leads to upsets, tight races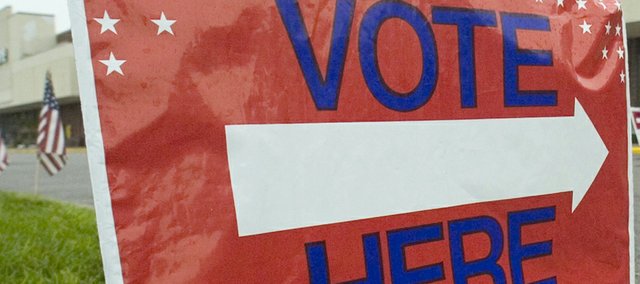 A strong voter turnout in Leavenworth County helped knock out some incumbents, while others barely were victorious on a night when the country was split in its choice for its 45th president.
Leavenworth County had 60 percent turnout, according to County Clerk Janet Klasinski, though she noted that is a percentage of the total active and inactive voters. Inactive voters are those residents who have moved.
Klasinski said by using just active voters, turnout was 72 percent. There were 30,398 voters total.
Donald Trump won 59 percent in Leavenworth County and 57 percent statewide on his way to an unprecedented victory. Though the Electoral College race wasn't as close as in 2000, like Al Gore, Hillary Clinton won the popular vote.
Locally, incumbent Tom Holland, D-Baldwin City, avoided an upset in his Kansas Senate race in the Third District. He won by about 900 votes against Republican challenger Echo Van Meteren. She won 65 percent of the vote in Leavenworth County, but Holland was able to make up enough ground in Douglas County.
Republican Jim Karleskint won with 58 percent against Democrat and Tonganoxie City Council member Kara Reed. Karleskint slipped past incumbent Connie O'Brien in the primaries. Other notable state races in Leavenworth County saw Democratic challenger Jeff Pittman oust Republican incumbent Tony Barton in the House 41st District and Democrat Debbie Deere beating Republican incumbent John Bradford in the House 40th District. Republican incumbent Steve Fitzgerald, meanwhile, won by just 500 votes in the Senate's 5th District race against challenger Bill Hutton.
Willie Dove won re-election in the 38th district with 58 percent ahead of Democrat and Tonganoxie High School graduate Mike Fonkert (35 percent) and Libertarian Frederick Caleb Christopher (7 percent).
In the lone contested general election race for county office, Republican incumbent Janice Van Parys won with 60 percent against Democratic challenger Kelly Kultala.
The following results show Leavenworth County vote totals and then percentage of vote won followed by statewide or districtwide tally and then vote percentage in parentheses.


U.S. President
Jill Stein (G) 645 (2) 22,698 (2)

Hillary Clinton (D) 10,064 (34) 414,788 (36)
Gary Johnson (L) 1,580 (5) 53,648 (5)
√ Donald J. Trump (R) 17,387 (59) 656,009 (57)



U.S. Senate
Patrick Wiesner (D) 10,013 (34) 368,672 (32)
Robert D. Garrard L) 1,726 (6) 63,428 (6)
√ Jerry Moran (R) 18,056 (61) 716,661 (622)


U.S. House 2nd District
Britani Potter (D) 8,709 (29) 94,561 (33)
James Houston Bales (L) 2,052 (7) 18,700 (6)
√ Lynn Jenkins (R) 19,060 (64) 177,851 (61)


Kansas Senate 3rd District


√ Tom Holland (D) 5,373 (35) 16,810 (51)
Echo Van Meteren (R) 9,886 (65) 15,915 (49)


Kansas Senate 5th District
Bill Hutton (D) 6,242 (43) 12,600 (49)
√ Steve Fitzgerald (R) 8,195 (57) 13,100 (51)


Kansas House 38th District
Mike Fonkert (D) 2,984 (36) 4,158 (35)
Frederick Caleb Christopher (L) 588 (7) 799 (7)
√ Willie Dove (R) 4,634 (57) 6,898 (58)


Kansas House 40th District
√ Debbie Deere (D) 4,350 (52) 4,350 (52)
John Bradford (R) 3,986 (48) 3,986 (48)


Kansas House 41st District
√ Jeff Pittman (D) 3,359 (55) 3,359 (55)
Tony Barton (R) 2,759 (45) 2,759 (45)


Kansas House 42nd District

Kara Reed (D) 2,750 (39) 4,090 (42)
√ Jim Karleskint (R) 4,271 (61) 5,620 (58)


Leavenworth County Treasurer
√ Janice Van Parys (R) 17,589 (60)
Kelly Alford Kultala (D) 11,868 (40)


Constitutional amendment
√ Yes 24,572 (84) 914,850 (81)
No 4,693 (16) 210,123 (19)