Tonganoxie teachers,
USD

464 board still looking at contracts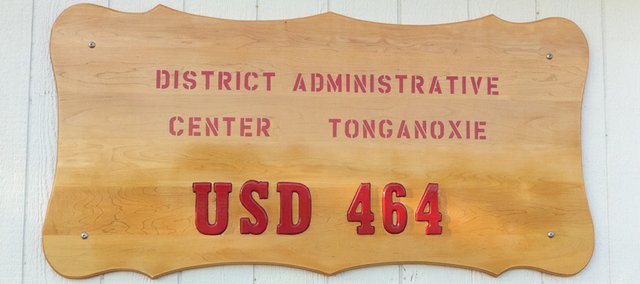 A contract agreement for teachers in Tonganoxie USD 464 continues to be up in the air.
More than 50 people — mostly district teachers — attended Monday's regular school board meeting to voice concerns about the current proposal.
Both the board and district teachers are working to come to an agreement over the contract.
The main item of concern is payment for professional development, which teachers say has been a mainstay for 30 years.
Board members allowed three teachers to speak on behalf of the faculty. Teachers raised concerns about the impact not having those funds to the same level could mean individually and for the district.
School board members met in executive session for 35 minutes to discuss negotiations with Superintendent Chris Kleidosty.
At the end of the closed-door session and back in open session, Board Member Shelly McGhee thanked the teachers for attending the meeting and voicing their concerns.
The board voted to wait on any contract decisions until the teachers voted on the contract.
The Mirror will be following up in coming weeks on this story.
Assessment scores discussed
Tonya Phillips presented the results from last year's assessment scores compared to the previous year.
Because of some technical issues, not all information could be compared, but she said next year's cycle should allow for the full testing to be compared against the previous year.
Phillips reported that Tonganoxie USD 464 students stayed in line, for the most part, with state averages. Some numbers were below that mark, but others above. She said of all the students, high school was below the state average the most, but she explained that the testing rigors have increased, so it's not that they're necessarily doing worse, it's just that the testing has changed. For instance, some of the testing is adaptive, meaning if a student answers one question correct, the questions get more and more difficult. If a student doesn't get a question correct, there are more of that level posed.
Board members inquired about ACT scores after her presentation. Phillips said she would present an ACT report at the next board meeting.
Hires, resignations approved
The board approved the following work agreements:
Chris Croley, maintenance (replacing Andrew Phillips) for 2016-17; Aileen Cunning Tonganoxie High School lead custodian (replacing Chris Croley), 2016-17; Kenny McGee, THS boys basketball assistant coach (replacing David Hillmon, who is now head coach), 2016-17; Lindsay Wake, TES speech and language pathologist para (replacing Kelly Neis), 2016-17; Mitch Loomis, THS girls basketball assistant coach (replacing Jodie Smith), 2016-17; and Johnny Putthoff, regular Route Bus Driver, (Filling position previously vacated by himself), 2016-2017.
Resignations were approved for Jodie Smith as THS girls' basketball assistant coach; Melissa Pratt, THS softball assistant coach; Rebecka Reischman, regular route bus driver; Melissa Ostermeyer, director of transportation; Nancy Harr, special education van para. More can be found online.
Amanda Starcher, TMS special education para-educator, effective Nov. 21; and Andrea Putthoff, regular route bus driver, effective Nov. 26.
New positions, a districtwide full-time ESOL aide and transportation department technician.