Tonganoxie
USD

464 board picks new member;

FTE

enrollment up; library building discussed; contracts, resignations approved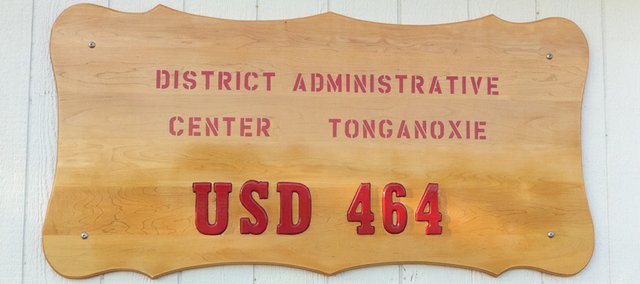 Tonganoxie USD 464 has a new board member.
Phillip Welsh, a local engineer, was selected by a unanimous 5-0 vote at Monday's meeting. Amelia Brusven was absent.
The board interviewed Welsh during the regular meeting, while another applicant, Doug Regehr, interviewed with the board through video chat.
District officials had some technical difficulties with technology equipment for the video chat at the Tonganoxie Elementary School library. Regehr could be seen through video, but audio did not work. After several minutes of issues, the board interviewed Regehr by asking questions via speaker phone on a smart phone.
After interviewing both candidates, the board had no discussion. The school board made a motion to nominate Welsh as the district's new board member, replacing longtime member Kay Smith, who resigned just before her husband, Doug Smith, ran in the Republican primary for the Leavenworth County Commission race. Doug Smith won the primary and does not face an opponent in the general election next month.
Welsh works at Kiewit Engineering and Design in Lenexa as director of electrical and controls engineering and design. The company specializes in combined cycle natural gas power plant design, water facility design and large natural gas facilities.
A graduate of Miltonvale High school in north central Kansas, his wife of 15 years, Julie, also is from that area, growing up in Beloit.
They have three children, Owen (12), Ethan (11) and Avery (4).
Welsh attended Kansas State University, receiving a bachelor's in electrical engineering and an associate's in computer engineering technology.
His family has lived in Tonganoxie for 10 years.
Regehr is a territory sales manager for the forage division for Vermeer Corporation out of Pella, Iowa. He works with agricultural dealers in Kansas and Missouri. He previously worked for Purple Wave Auction and John Deere. He has a bachelor in agricultural economics and a master's in agribusiness from K-State.
Welsh will serve out Smith's term, which is set to end January 2018.
Special meeting
The school board will have a special meeting 6 p.m. Oct. 19 at Tonganoxie Elementary School, for the purpose of setting expectations between the Board of Education and Chris Kleidosty as facilitated through McPherson and Jacobson, LLC.
FTE enrollment up
Enrollment numbers are both up and down in Tonganoxie.
Tonya Phillips, director of educational programs, told the board the official Sept. 20 enrollment was 1,963 students in the district, down three from the 2015 official count. However, the district is up by 9.7 students in full-time equivalent numbers. This year, the district is at 1,908.1 up from 1,898.4 in 2015.
Some students count as a percentage of a full student. Kindergarten students, for instance, are 0.5 of a student for FTE purposes. FTE figures have been used historically to help in determining certain state funding.
Phillips said the higher FTE number was because of more students in upper grades and fewer kindergarteners.
Library discussion
The board had preliminary discussions about moving the district's central office into the current Tonganoxie Public Library if the library eventually were to build a new facility.
Superintendent Chris Kleidosty said the district could do a building needs analysis on the library for about $5,000 or do a study on a new building to be constructed on district property.
Board members were in agreement in taking a wait-and-see approach after more is known about the library's future before doing anything involving discussion about the current library. The library could be funded in part by a sales tax extension when the Tonganoxie Water Park 3/4-cent sales tax expires next year. The measure requires a public vote, and the Tonganoxie City Council still is deciding what projects would be funded if the measure is put before voters.
Board members also were in current consensus that a new building should be on district property.
Work Agreements
Janice Adams, Tonganoxie High School special education para-educator (replacing Carter Gish); Holly Woods, Tonganoxie Elementary School evening custodian (replacing Karen Petesch); Julie Price, mail carrier (replacing Cody Elmer); Ursula Kissinger, eighth-grade girls' basketball assistant coach (replacing Chris Weller); Bill Benson, seventh-grade boys basketball assistant coach (replacing Joe Malec); Matthew Christensen, THS Science Olympiad sponsor (replacing Christine Biel); Lindsey Hayden, special education van driver (replacing Johnny Putthoff); Kenneth Lott, THS automotive teacher (replacing Scott Moore); Heidi Fletcher, THS kitchen manager (replacing Brigit Little); and Judy Brunkow, THS cashier (replacing Heidi Fletcher).
Resignations
Mollie Athon, TMS special education para-educator, effective Tuesday; Rachael Schaffer, THS track assistant coach, effective immediately; Scott Moore, THS automotive teacher, effective immediately; Johnny Putthoff, special education van driver, effective immediately; Andrew Phillips, maintenance, effective Tuesday; and Kelly Neis, TES special education para-educator, effective Oct. 26.