Ballot question debate moves along slowly; sign ordinance tabled; public hearing set
Public hearing set for Nov. 7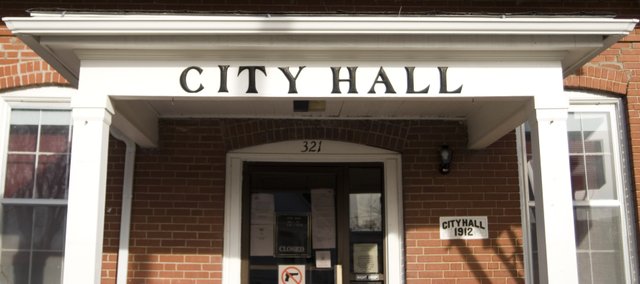 The Tonganoxie City Council continues to determine what a ballot question might resemble as it looks to put the 3/4-cent sales tax extension to a public vote.
A downsized council met Monday for its regular meeting, with Mayor Jason Ward and Council Members Chris Donnelly and Jim Truesdell absent.
Council President Kara Reed filled in to handle mayoral duties leading the meeting, as fellow Council Members Andy Gilner and Curtis Oroke also were in attendance.
Members agreed that the library was an important project, but that there were others that still needed more evaluation, specifically infrastructure projects.
Reed also voiced concerns of whether to proceed with library officials' preference to build a new library, estimated to cost $3.6 million, at Third and Main across the street to the west from Gallagher Park.
Projections call for the sales tax, if extended, to generate $3.6 million over 10 years and $7.2 million over 20 years.
After considerable discussion, the Council called for a public hearing as part of its next meeting, Nov. 7, to get additional feedback.
It also directed staff to begin crafting some potential language for the ballot question.
No action on sign ordinance
The Council voted to hold off on any decisions on political signs regulations until the next regular meeting, which is the night before the general election.
The city received complaints that some of Reed's political signs were too large by city ordinance standards. However, there are some contradictions in city code, in that political signs also fall under the umbrella of "special interim" signage, and thus the signs fall under those guidelines.
Reed, who is running for the Kansas House seat in the 42nd District, abstained from voting on the issue because of it being a conflict of interest.
Gilner and Oroke didn't take action on the measure and were content to table it until the next meeting.
Oroke, however, was critical of the sign ordinances, calling for simplified reform.
"We need to revamp this 39 pages of crap," he said. "As far as I'm concerned, it's so out there. So must stuff out there is convoluted.
"We're not Johnson County. We're not the big city. Yes, we need to be prepared to grow."
Public hearing for potential benefit district in Tonganoxie
The Council will have a public hearing at 7 p.m. Nov. 14 to discuss options for a benefit district along Smiley Road.
Residents who could be affected by a potential benefit district will be notified of the meeting via mail, Interim City Manager Jamie Shockley said.