Face to Face: Tonganoxie
SRO

Anthony Garcia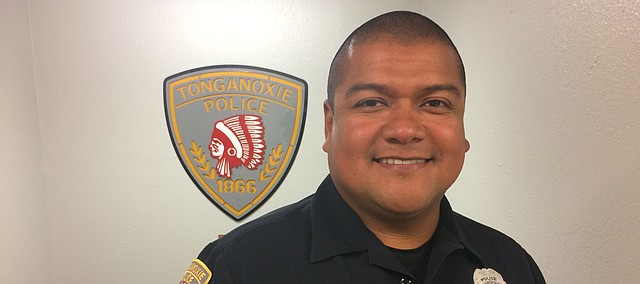 Name: Anthony Garcia
Born: Born and raised in Lawrence.
Family: Single father of three amazing children: Alex, Halley and Caleb, who attend schools in Johnson County. They also have a little dog named Pepper.
Occupation: Police officer, tactical officer and current school resource officer for Tonganoxie USD 464.
Dream job as a child: Garcia always wanted to be a real estate agent or in sales. In high school he decided he wanted to be a school resource officer because of the impact his SRO, Mike Barrow formerly with the Lawrence Police Department, had on him.
Interesting fact: Garcia is an avid disc golfer (Frisbee golf). He recently participated in a large Kansas City tournament. He tries to play two to three times each week. Garcia also is as movie fanatic, with horror movies being his favorite genre.
Digging deeper: Garcia graduated from Lawrence High School in 1997. After high school, he went to work for the city of Lawrence Utility Department for several years.
He then left to be a restaurant manager and was general manager for two different Sonics in Lawrence before Atlanta Bread Company recruited him in 2003. He was general manager for two Atlanta Bread, the first in Lee's Summit, Mo., and the second in Overland Park where he remained until starting his law enforcement career in 2006 when the Gardner Police Department offered him a home. He served in Gardner as a police officer and SRO until 2015.
Now he serves in Tonganoxie as an officer and SRO.
"I am happy to be here and serving both the Tonganoxie Police Department and Tonganoxie School District," he said.
Garcia currently is enrolled at Central Christian College in McPherson through the school's online program.
He is pursuing a bachelor's in criminal justice and should be finished in 2018.