Linenberger: Time is prime to strike sunflower gold in Tonganoxie area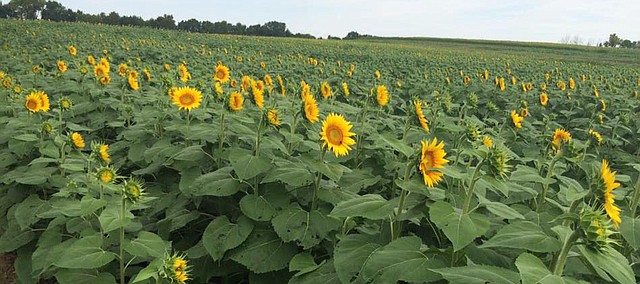 As I took a friend Sunday to Lawrence, I decided to venture down U.S. Highway 24-40 so we could drive by the Grinter Farms sunflowers and see all of the activity that comes with it.
As we got closer and traffic was at an almost standstill, I noticed cars coming from the east on Woodend Road, a gravel road.
I thought there must have been a wreck and cars were being re-routed.
Nope.
It would seem smartphone mapping apps were sending visitors to the sunflower spectacle on the first road north of the Tonganoxie/Eudora interchange.
Impressive that the map would take folks down a gravel road when Siri still is telling me to make a U-turn as I try to get on the Bonner Springs interchange for Interstate 70 east.
Perhaps we could talk to the map app folks about guiding County Road 1 all the way to U.S. 24-40 and maybe heading north into the heart of Tonganoxie before sending folks out to Grinter Farms.
The sunflower spot continues to gain popularity, so much so that it was thought it might be a good idea to close the destination to the public Monday because of the high traffic volume.
People were backed up 5 miles because of the traffic congestion and some waited two hours in said traffic before finally making it to the field.
That might be a another glaring hint that it's time for Tonganoxie to partner with Grinter Farms to benefit both entities starting next fall.
What about buses that business, banks and organizations sponsor shuttling folks from the Tonganoxie High School parking lot or other prospective spots to the sunflower fields? Perhaps parking can still be offered near the fields. Ted Grinter told WIBW on Monday he might consider charging parking because of more parking being needed and said parking cutting into his corn field area, a crop Grinter likely will be selling in the coming weeks.
What about making Stillwell Road one-way during the prime sunflower viewing time, with those buses from Tonganoxie in the right lane and regular traffic in the left lane heading west from U.S. 24-40 at Stillwell Road? The traffic can then make the loop back to U.S. 24-40 farther to the south and go past the new Sunflower General store in the process.
What about Tonganoxie using temporary signage everywhere it can to let folks from all points elsewhere know that they might as well make the trip last a bit longer and stay a spell to check out our southern Leavenworth County community?
How about Tonganoxie High School art students and other artists creating sunflowers of metal or whatever material to be placed in the flagpole holes along Fourth Street?
How about encouraging Tonganoxie residents planting varying types of sunflowers to create their own little sunflower gardens?
Don't have a green thumb but like to cook? Baking contest using sunflower seeds in some capacity, with judges picking the winners in various categories.
And no festival is complete, as we learned in the summer, without a beer garden and some wonderful music.
When organization of the Tonganoxie Sesquicentennial first started happening, a few of us started to talk and realized we were on the same wavelength — a sunflower festival would be a great way to capture all of that traffic heading to Grinter Farms and entice those visitors to check out our community as well.
I was lobbying for the Tonganoxie Sunflowapalooza (Slightly easier than pronouncing ses-qui-cen-ten-ni-al, right?).
Or maybe the festival doesn't happen at that time. Maybe we roll out the red carpet to visitors and put our businesses front and center for the cameras. If you visited the sunflower fields, here are the Tonganoxie businesses you can visit to receive a free this or 15 percent off that.
As folks come together to discuss what to do moving forward, perhaps there's so much traffic heading to the rural sunflower spot that it makes more sense to shuttle people and find a way to get them into Tonganoxie and its businesses.
The city of Tonganoxie has pledged to be part of sesquicentennial sequels for the foreseeable future. People must gather and decide what that festival looks like and if it incorporates sunflowers or another hook.
Either way, Tonganoxie should partner with the Grinters to find a way to keep that traffic around to spend time and money in Tonganoxie, as well as at Grinter Farms so the annual tradition can continue.
The Grinters should be lauded for all they've done to make their fields such a welcoming spot.
The bottom line will be this: All for one and one for all. Volunteers from various organizations will be needed to make anything a reality.
That's why the sesquicentennial went so well and created a great buzz for the community. Folks came together like never before to make it a big success.
Committees again should lead the charge so that we can continue this momentum going in a way that best helps all involved.
This isn't a job for one or two people or one or two groups. It will take an energetic village for sure.
Search #grinterfarms or #grintersunflowers online and it's amazing what you'll find.
Photos of pure joy captured in a moment in a field of sunflowers. Couples. Children. Parents and their youngsters. Friends.
You name it and people make photo after photo of pure happiness. We should do all we can to keep that goodwill rolling.
How nice is it to see your Facebook feed filled with all that sunflower love instead of some bunk "news source" being cited for the latest half-truth about the election or whatever it may be?
Facebook friends whom you'd never associate with Tonganoxie keep showing up alongside your neighbors down the street.
As I was walking back to the car Sunday from the field, a presumed high school or college student was talking about the field and it being in "Leavenworth, or wherever we are."
The farm is a Lawrence address, but I so wanted to shout out "Tonganoxie!" to the tourist.
It's time to put Tonganoxie on the map. Who's ready to join together for a great community effort?
­­— Shawn Linenberger is editor at The Mirror newspaper of Tonganoxie. He can be reached at slinenberger@tonganoxiemirror.com or 913-845-2222.