Senate advances bill granting limited access to cold case missing person files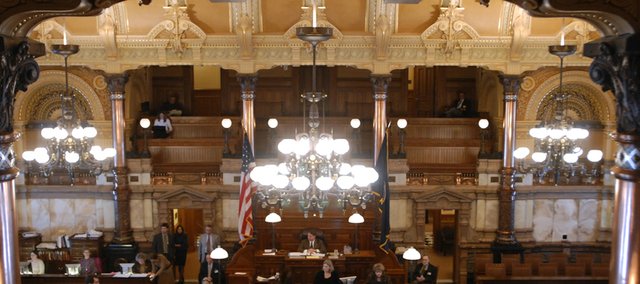 Topeka — The Kansas Senate advanced a bill Wednesday that would give limited public access to investigation records in unsolved missing person cases that are more than 25 years old.
Sen. Tom Holland, D-Baldwin City, added that provision as an amendment onto another bill that would standardize the fees public agencies can charge for producing copies of public records.
The underlying bill would also limit public access to all open records in Kansas to "Kansas citizens."
Holland initially offered his proposal as a separate bill, which sailed easily through a hearing before the Senate Federal and State Affairs Committee on March 8.
That hearing was attended by Harold and Alberta Leach, parents of Randy Leach, who disappeared nearly 29 years ago at age 18. Harold Leach, now in his 70s and in a wheelchair, had a family friend read a statement on his behalf that said, "It was the worst day of our lives, but it only gets worse because his case, to this very day, has never been solved. So every minute of every day, day after day, and year after year, we relive the worst day of our lives, over and over, for 29 years now, with no end."
Under current law, law enforcement investigation records are generally not open to the public.
People seeking those records usually have to file a petition in court and convince a judge that opening the records would serve the public interest, a process that could cost thousands of dollars in legal fees alone.
"We are talking about a couple who are in their late 70s," Holland said. "Spending the limited amount of time I've spent with these people, they wake up every day reliving the nightmare. They can't get this out of their heads. There are other families out there like the Leaches too. There's not a lot of them, but there are others out there."
Holland's amendment would provide that in missing person cases that are at least 25 years old, investigative records in those files that are at least 15 years old may be obtained by the public. Those records also could be redacted to conceal the names of confidential informants or undercover law enforcement officers.
Some senators said they questioned the wisdom of opening up investigative records, no matter how old they are.
Sen. Steve Fitzgerald, R-Leavenworth, echoed concerns of the Leavenworth County Sheriff's Office, which investigated the Leach case, arguing that the files can contain transcripts of interviews with people who spoke assuming that what they said would be confidential, people who may have been only speculating when they named potential suspects or talked about particular individuals.
Sen. Randall Hardy, R-Salina, said he worried that opening the case files could lead to litigation, either against a law enforcement agency or individuals who gave statements to investigators.
Holland, however, said the bill was drafted very narrowly to limit any risk that might come from opening the cold case files.
Holland's amendment was adopted on an unrecorded voice vote. The Senate then voted to advance the underlying bill to a final action vote, which is expected Thursday morning.
Sen. Barbara Bollier, R-Mission Hills, was the only senator to question a provision in the underlying bill that would limit access to public records to "Kansas citizens." The bill says that if someone from outside Kansas requests public records, that person would have to have someone who is a Kansas resident ask for the records on his or her behalf.
"Many people have business interests in this state that don't live in this state," she said. "I personally have a family member that runs a business, runs a ranch down in Sedan, Kan., for the family.
He is a resident of California, and he calls and asks for records. He would no longer be able to do that and will have to find someone to represent him and ask."
Sen. Jacob LaTurner, R-Pittsburg, however, said the bill only states that the custodian of records "may" require people requesting records to provide their legal address, but it does not require them to do so.