Tonganoxie school board approves issuance of $9.6 million in bonds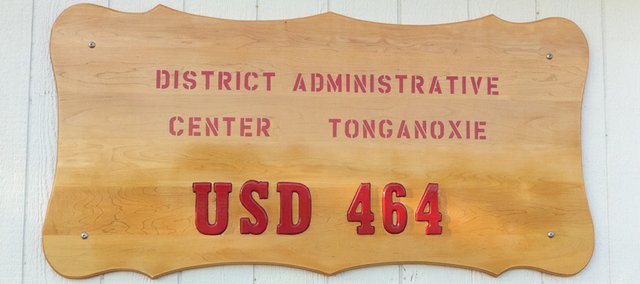 The school district is pushing ahead with issuance of more than $9.6 million in general obligation refunding bonds.
Issuance of the Series 2017-A bonds are thought to save the district at the least $500,000, according to Roger Edgar of George K. Baum and Company.
Edgar said savings likely wouldn't fluctuate from that estimated amount too drastically.
"I think for something to cause as much change as we talk about would be some kind of event, like a missile attack," Edgar said.
Board member Amelia Bresven reacted.
"Well," she said, drawing out the word for emphasis while gesturing with her hands in light of recent events in Syria and North Korea.
The board unanimously approved the issuance, 6-0, with Board Member Dan Hopkins absent.
The board also approved an agreement with public finance counsel firm Gilmore Bell to oversee the process.
Edgar suggested the agreement because of many federal enforcement cases in the last two years.
The feds have brought up more and more civil and criminal cases against local government entities when issuing bonds.
With Gilmore Bell, Edgar said the district would have attorneys and other professionals most familiar with federal regulations on board during the process.
Bond sales are expected to close at the beginning of June. Gilmore Bell's estimated fee for services is $30,000.
Engelken, Kroll resign posts
After more than an hour in executive session to discuss non-elected personnel, board members approved changing the high school position of activities director/teacher to activities director/assistant principal.
The decision comes on the heels of Brian Engelken's resignation as part-time activities/athletics director and part-time teacher.
Though absent from the meeting, Board Member Dan Hopkins participated in the executive session and during the public vote after the session via cell phone call. Hopkins was put on speaker phone for the vote.
Engelken's replacement will be part-time activities director and part-time assistant principal.
According to the El Dorado Leader newspaper, Engelken will be the next athletics director at El Dorado High School.
Engelken was in that part of the state previously, serving as AD at Newton High School before coming to Tonganoxie in 2015.
Kelly Fredley also resigned as THS counselor, as did Brian Kroll as boys soccer coach.
Kenneth Lott resigned as THS automotive teacher in his second stint in that position at THS.
Other resignations were: David Smith, THS custodian; Kassandra DeHoff, class sponsor; Brandon Ediger, THS special education teacher; Heidi Fletcher, THS kitchen manager; and Sarah Laundy, TES kitchen manager.
New positions
New positions for 2017-18 were approved by the board. A THS art teacher for 2017-18 and job description for library clerk were the two positions.
Volleyball coach hired
The new THS volleyball coach: Matthew Beat, class sponsor (replacing Kassandra DeHoff); Amelia Kane, TES custodian (replacing Hazel Burgess); Melissa Douglas, TES special education para educator (replacing Ashley Nester); Elvia Schaecher, fifth-grade teacher (replacing Nancy Patton); Debora Gallagher, TMS adaptive special education teacher (replacing Rachel Padfield); Christina Jeannin, THS Volleyball Head Coach (replacing Tiffany Parker); and Katherine Ramsey, TES art teacher (filling new position).
Kindergarten info night
There were 96 students at Kindergarten Information Night.
Interim Superintendent Tonya Phillips said the district see about 31 more added by enrollment.
Teacher of Year nominees
Kansas Teacher of the Year nominees for the district have been announced. Kristin Gantz is the Tonganoxie Elementary School nominee and vocal instructor Tom Gifford is the nominee at Tonganoxie High School.
FCCLA, FBLA to nationals
The Tonganoxie Family, Career and Community Leaders of America qualified 12 students for nationals at the middle school level and 17 at the high school level.
The THS Future Business Leaders of America chapter also qualified three students for its national competition.
Bike Across Kansas stop
Tonganoxie High School will host cyclists from across the state in June.
Bike Across Kansas, an eight-day, 500-mile trip across the state, will make an overnight stop June 16 in Tonganoxie.
Nearly 900 cyclists participate in the event. When the bikers stop in Tonganoxie, about 450 will stay in the gymnasium and the other roughly 450 will be in tents on the grass near the THS west campus.
Other main stops along the route from the Colorado border to the Missouri border are Tribune, Dighton, Wakeeney, Plainville, Lincoln, Chapman, Rossville and Leavenworth.