Tonganoxie
USD

464 recycling debate continues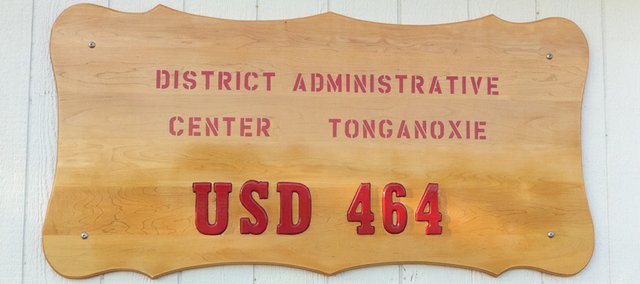 Tonganoxie School Board members debated recycling options moving forward at Monday's board meeting.
Online poll
Head to tonganoxiemirror.com and vote in our online poll about recycling.
Board members voiced concern about continuing to offer bins in the parking lot between the elementary and middle schools.
But members also said recycling was important, both for the community and within the district.
With Honey Creek Disposal's removal of large co-mingle bins at Triple Creek Realty along the U.S. Highway 24-40 curve, demand at the Town and Country bins at the schools increased and they overflowed during spring break.
The company, now part of WCA Disposal, planned to begin charging for recycling services, so the district is looking for other options.
Triple Creek Realty wanted to utilize the space on its property where the Honey Creek bins have been for years, so Honey Creek has looked at other options.
City officials looked at relocating the bins to city property, but they couldn't find a viable option.
Board Member Kaija Baldock said another business offering space would be a good public relations opportunity for that business while helping provide a needed service.
Becky Ayers, who works in the district and attended Monday's meeting, said Honey Creek allowed local Boy Scouts to collect aluminum cans when Triple Creek Realty had the drop-off location.
Her family has been involved with the Boy Scouts' efforts there.
She said the youths helped clean up the area, as that has been a challenge for any recycling space — some people drop off trash or items that can't be recycled there. Or, they leave items outside the bins.
Ayers said her husband was at a Boy Scouts meeting Monday and there was to be discussion about possible relocation of an aluminum can dropoff. She said if a new public drop-off location were created, the Boy Scouts could potentially help keep that area cleaned up also.
Ayers said she would sign up for curbside recycling through Honey Creek, but Honey Creek won't provide the service unless it's mandatory in the county.
Baldock and fellow Board Member Kris Grinter, who both live outside city limits, would also welcome the service.
Some county residents have posted on Facebook their preliminary efforts to get service by contacting Leavenworth County Commission member Doug Smith.
Honey Creek currently offers optional curbside recycling for $4.
Citywide recycling also was an option for $2.25 when the service started in November 2014.
About 15 percent of Tonganoxie households, or 270 houses, use the service, according to Assistant City Manager Jamie Shockley. That's up 1 percent from March. Shockley said last week that 17 new households have signed up for curbside recycling.
Honey Creek has directed residents to another drop-off site, the Prairie Moon school near Lawrence Municipal Airport.
Grinter visited that location and said there was one bin for cardboard and another for co-mingling.
There also are options near The Leagends shopping center, but for most recycling it would take more frequent visits.
Village West Discount Liquors, 11010 Parallel Parkway, offers Ripple Glass bins for glass dropoff. And Target, 10900 Stadium Parkway, has drop off near the front entrance, but they are small bins.
School district officials pledged to continue to look into options for recycling.
Baldock also asked for Ayers' contact information so the board could keep in touch regarding any Boy Scout plans for recycling and cleanup.