Building activity up in Tonganoxie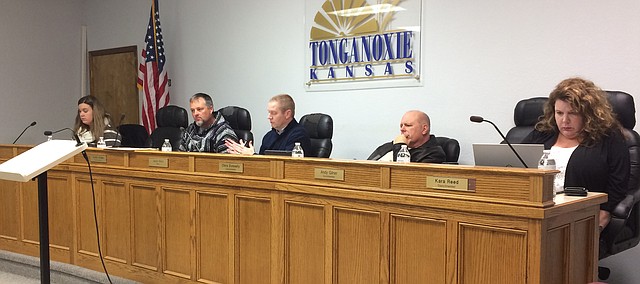 There's a lot of building activity these days in Tonganoxie.
Assistant City Manager Jamie Shockley presented numbers at Monday's City Council meeting. She noted that Tonganoxie leads the county in single-resident building permits being issued so far this year.
Shockley said many numbers are encouraging so far this year, including 26 percent of budget estimates have been collected for sales tax. That's up from 13 percent at this time in 2016. Shockley said she wanted to research why that number has doubled from last year.
City approves lease agreement
Janet Falk, who coaches the Tongie Tidal Waves swim team, spoke to the City Council about another lease agreement with the city for use of Tonganoxie Water Park for home meets.
The Tidal Waves will compete June 9 and June 16 a the park.
The Council approved the measure, 5-0. In addition, Mayor Jason Ward was not at the meeting. Falk's team will use the pool before public hours Mondays through Thursdays for practice.
She noted that the club started with 30 members and has grown to 130 swimmers on the team. She also told the council that those older swimmers are providing more options throughout the area for lifeguard needs, specifically in Leavenworth.
"Not just anybody has that skill set," she said.
June 16 likely will be a busy day in Tonganoxie, with the swim meet in the morning and Bike Across Kansas cyclists starting to roll into town late morning or early afternoon.
The cyclists also will use the water park later in the day, but it didn't seem to be a concern with the swim meet that day, as it will take place before the majority of cyclists get into town. Some 900 participants are expected to stay overnight that Friday. It's the last overnight stop for this year's installment of the statewide ride.
No brush drop-off coming
City Manager George Brajkovic followed up on an inquiry from the last council meeting about creating a tree and brush drop-off site in the community.
Brajkovic said staff did research on the matter, but determined at this time such a drop-off didn't make sense.
He noted that after storms the city provides a service of picking up limbs. Also, if limbs are too large to be cut down, there are other options for removal, such as requesting a burn permit.
Brajkovic voiced concerns that brush drop-off site would attract unwanted items, such has been the case with recycling spots in Tonganoxie.
Drainage problems discussed again
The council heard from Zach Provost about the solutions to drainage problems at his property in the Greystone subdivision.
Provost spoke during open agenda about a draft the city was working on to address any moves to improve the situation. Lucas McWilliams, a neighbor who also has been affected by the ongoing drainage issues, also was in attendance.
Provost discussed with Brajkovic back and forth parts of a proposed efforts by the city, but the measures still were in draft form.
Discussion eventually moved toward discussing concerns outside of the meeting with staff and then coming back with a proposal for the council at a later date.