Chemistry key for Tonganoxie High softball in early going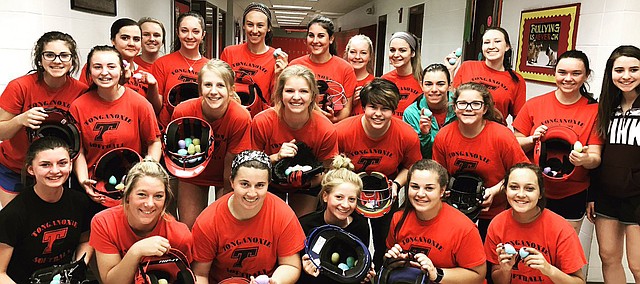 Early on in the 2017 Tonganoxie High softball campaign, coach Stephanie Wittman thought her team had its strengths, but one intangible continues to be the squad's biggest asset.
"I think our team chemistry is the top thing going for our team right now," Wittman said.
It's hard to argue with Wittman there.
Her squad is 6-0 after last Thursday's 15-0 and 16-0 routs of Pleasant Ridge at the Leavenworth County Fairgrounds in Tonganoxie.
Wittman also noted that upperclassmen and returning starters in juniors and seniors "have really dictated the pace of practice and the purpose of practice."
Because of numerous rainouts and postponements, THS opened the season about a week ago with doubleheader sweeps of Bonner Springs (9-6, 12-7) and Bishop Ward (21-1, 13-2) on the road before winning at home against the Rams.
That was three doubleheaders in three days for the Chieftains. Though the schedule will get tougher, it was a strong start for the Chieftains.
"The key is just for us to be consistent offensively and coincident defensively," Wittman said. "That's what we've been talking to the team about a lot. Consistency in how we play.
THS has consistently scored runs, with one game so far not being a double-digit run output — and even that one was nine runs.
THS opened with a 5-0 lead after three innings in the season opener. The team had a 9-2 lead heading into the bottom of the seventh, but a Bonner Springs' four-run rally in the final inning made the score much closer at 9-6.
Sam Reynolds pitched a complete game, striking out six and giving up 11 hits.
Makenzie Sample and Delainey Fenoglio led the team with 3 shifts each, while Audrey Miller collected 4 RBI. Fenoglio and Sample each had 2 RBI.
The second game against Bonner Springs had more suspense.
THS scored 3 runs in the top of the fourth and lead, 3-0. But Bonner Springs responded with a 7-run fourth.
The Chieftains battled back with a run in the fifth and 3 runs in the sixth. That tied the game up before THS scored 5 more runs in the top of the seventh. There would be no late rally this time for the Braves and THS won, 12-7.
THS had 15 hits on the day. Fenoglio pitched a perfect game giving up 16 hits and striking out five.
Torrissa Hootman had 3 hits for THS, while Bren Shryock,and Miller each had 2 RBI.
In the 21-1 victory against Ward, Erin Gallagher pitched four innings and Fenoglio one thanks to the mercy rule. Gallagher gave up seven hits and struck out four. THS gave up 7 hits, while cranking out 24. Fenoglio and Shryock led the team in hits with 4. Lauren Gray connected on three hits. Fenoglio led the team with 6 RBI, while Gallagher had 4 and Miller 3.
Three big innings —a 7-run second, a 4-run fourth and a six-run fifth — helped THS in the rout.
THS won the second game, 13-2, in six innings. A 5-run first and 6-run sixth were key in the rout.
Reynolds pitched 4 innings and Gallagher 2, as Reynolds had 5 strikeouts and Gallagher 3. They gave up 5 hits, while THS cranked out 18 of its own.
Shryock had 3 of those hits, while Gallagher had 2 and Lauren Gray 2. RBI leaders for the game were Miller (4), Gallagher (3) and Fenoglio (2).
Against Pleasant Ridge in the home opener, Fenoglio threw a no-hitter in a 3-run inning thanks to the mercy rule. She also had 7 strikeouts.
Gallagher and Miller both led the team with 3 hits, while Fenoglio chipped in 2 hits. Gallagher and Miller each led the team with 3 RBI.
In the second game, Gallagher pitched three innings, giving up 2 hits and striking out 5 batters.
RBI leaders were Fenoglio (4), Shryock (3) and Gray (2).
Wittman said she expects her team to be in the mix for a Kaw Valley League title, but it could be a logjam with the likes of Piper, Basehor-Linwood and Lansing.
"Those programs just have strong traditions," Witman said. "I foresee them being at the top of the league, as well as us."
THS is back in conference play this week. The doubleheader against Lansing at home Tuesday took place after The Mirror's print deadline. The team is home again at 4 p.m. Thursday against Turner.