'

Coach K' stepping down at Tonganoxie
Kroll ending stint as
THS

' winningest soccer skipper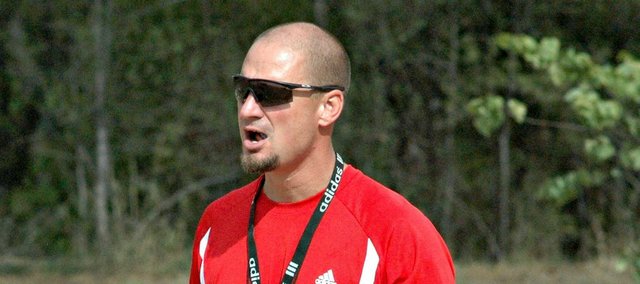 In 2008, Brian Kroll arrived at Tonganoxie High as an assistant boys soccer coach, joining a program that had experienced some success in its first 16 seasons, but very little since the turn of the century. He took the reins as head coach two years later and has since transformed the Chieftain program into one of the area's elite.
Now, after rewriting the THS history books for nearly a decade, the man known to his players as "Coach K" has decided it's time to pass the torch.
Kroll announced his resignation March 30, bringing an end to the most successful coaching era in 25 years of Chieftain soccer.
"The ride has been unbelievable, to say the least," said Kroll, who began coaching at the rec league level when his oldest child, 2016 THS grad Alex Kroll, was just 5 years old. "Pretty much from that moment on, soccer has been every single day of our lives."
Kroll's tenure in Tonganoxie got off to a rocky start, as the Chieftains battled injuries and went just 1-15 in his first regular season in 2010. However, a 2-1 regional play-in win at Perry-Lecompton sparked a run to the Class 4-1A northeast regional finals.
THS fell to Maur Hill-Mount Academy in sudden death penalty kicks, but the postseason surge helped instill a new mindset into a team that had won just 14 games in the four years before Kroll's arrival.
"From day one, K demanded the very best of us, and the people that bought into his style of play found a lot of success," said 2013 Chieftain grad Zack Tallent, a team captain in each of Kroll's first three seasons. "We turned into a team that didn't just play soccer, but played for each other. Everyone had each other's back and every game was a display of how much closer we had come as a unit.
"Our team motto was 'family' for many years and I would say it was very appropriately used."
The Chieftains continued to gain momentum in 2011, going 11-7-1 and winning their first regional title since 2000, the first of four under Kroll's watch.
The following season still stands as the most successful in team history, as Kroll led THS to a team-record 16 wins, Kaw Valley League and regional titles and an appearance in the state championship game – Tonganoxie's only trip to the state finals in any head-to-head team sport. They reached the final by upsetting heavily favored McPherson, which had outscored its opponents by a 93-7 margin entering the semifinals.
"I mention that McPherson game every single time I have the opportunity," Kroll said. "Tonganoxie had absolutely no business winning that game. That was an absolute wrecking force of a team. We had to make them play our game, and those kids took it and ran with it. When they had the opportunity, they capitalized."
THS hasn't advanced past the state quarterfinals since 2012, but has averaged better than 11 wins and won two more regional titles in the last four years. In perhaps a fitting end to his career, Kroll's squad secured his fourth and final title this past fall with a 1-0 win against Maur Hill, the same team that ended his inaugural season six years before. He wrapped up his career alongside his second-oldest, Dylan Kroll, who will graduate in May.
All told, Kroll has compiled a 75-54-3 career record, giving him eight more wins than the program amassed in the 12 seasons preceding his tenure as head coach. Like Tallent, he attributed much of the Chieftains' success to the family mentality they learned to embrace in his seven years at the helm.
"It's really just become kind of a brand," he said. "We didn't always have great players, but we had a great team. It was awesome to create something and have people that wanted to buy into it."
Kroll has also served as an assistant coach on the girls team since the 2012 and will resign from that role at the end of the current season. His impact on the local soccer community has been felt beyond the high school ranks as well. He has hosted an annual summer "Sokker Kamp" for members of the high school teams since 2010, and he added a "Kids Kamp" in 2011, giving younger athletes an opportunity to experience Chieftain soccer in elementary and middle school.
"I've attended every camp that he's put on, either as a participant or a coach, and it has helped kids so much," Tallent said.
Kroll's time with the Chieftains will officially come a close at the end of the current girls season, but he'll continue to coach his daughters, Emma and Fynlee, on their rec league teams. He admitted he's looking forward to devoting more time to his own kids, but also used them in an analogy to describe his storied career at THS.
"I always tell my kids any time we go anywhere, 'when we leave here, it will be cleaner than we found it,'" he said. "I think I've left it cleaner than I found it. I think I've done all I can do here, and it's just time. Everything good comes to an end eventually."