New
THS

activities director taking over in Tonganoxie
AD

, also a 2nd assistant principal, settling in before school year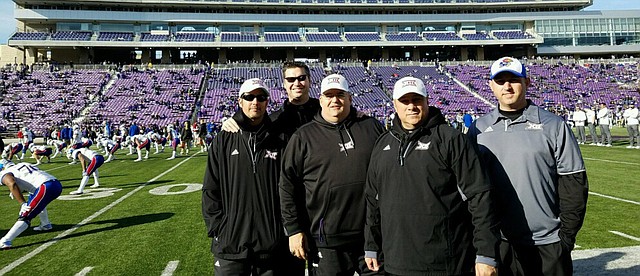 Mr. Random is in his first month as activities director/assistant principal at Tonganoxie High School.
Actually his name is Brandon Mellen, but he jokingly refers to himself as Mr. Random because he has a variety of interests and experiences.
Mellen, who started July 1 in the Tonganoxie school district, played basketball at Emporia State, coached college basketball at Fort Scott Community College and Baker University, served as a "ball boy" on the sideline for Kansas football games in Lawrence and officiated high school basketball.
Oh, and he's licensed to perform weddings.
So, far he's performed seven. And, as he noted, he's performing above the national average, as six of those seven couples still are married.
The youngest of 12 children, Mellen said his mother's rule growing up was to stay active year-round. And so, Mellen and his siblings were busy in the school seasons playing various sports. And in the summer, he was playing baseball.
A 1995 graduate of Fredonia High School, Mellen graduated from ESU in 2000 with a bachelor's in education with emphases on business and physical education.
While coaching at Fort Scott, he taught a couple classes and then earned a master's in PE and recreation through an ESU online program in 2004.
About a decade later, he earned a master's in school leadership from Baker.
The past 14 years, he taught at South Middle School. That's when he was an assistant at BU.
Mellen now is making the jump to administration as activities director and an assistant principal. He joins THS' current building administration of THS principal Mark Farrar and longtime assistant principal Brent Smith.
"So far it's been wonderful," Mellen said. "The biggest part is the people. The people have been welcoming. Mr. Farrar and Mr. Smith have answered every question.
"Being a new position, they're making sure I'm not just getting thrown in."
Mellen is eager to provide Tonganoxie students with as many resources as he can, whether it's on an athletics field or in debate, music or scholars bowl.
"One of my big philosophies with education is to get kids involved," Mellen said. "Look at the options we have and is it meeting the need of our students. Are there activities we need to increase? What can we do to get kids involved?"
He points to research that reflects the importance of extracurricular activities.
"When kids are more involved in school, they're more successful," he said. "They might not be a football kid or a basketball kid, but that doesn't meant they can't be a manager or statistician and be a part of that family."
Mellen said he's been fortunate to see things from both the high school and collegiate points of view as an educator and coach.
He said whether it's football, band or debate, there are ways students can continue those activities while helping finance their education.
The basketball official also sees a broader view of the district's offerings.
"We get where we have our view and our team," he said. "In administration, there's a broader perspective. "It's not just my kid, my team. You want to help push the entire district forward."
For THS, Mellen wants to continue moving programs forward.
"When you look through history, a lot of teams have had a lot of good seasons," Mellen said about Tonganoxie's athletics department. "My goal is to just support our kids and coaches and continue to compete and continue to take the next step. A few have had success and a few are ready to take that step of success.
"We're working to do what we need to do to get our kids to the next step, whether competition-wise, equipment, academic-wise."
"Mr. Random" is married to his wife, Michelle. They have two dogs, a boxer named Carly and an Australian shepherd mix named Fresca.
Mellen said he likes the outdoors, while also being quite the "sports follower." He was a "ball boy" for KU football games in Memorial Stadium while teaching at South Junior High in Lawrence. South administrator Lynn Herrod got him in contact with Rex Porter, owner of Rex's Stadium Barber Shop in Lawrence. Porter is involved in the coordination of those workers for games.
Mellen started as a ball boy in 2006, so he got to attend the 2008 Orange Bowl and 2008 insight.com Bowl with KU. He worked on the visitors sideline.
"It was a pretty good gig," Mellen said. "Getting to stand next to Coach (Bill) Snyder, next to Bob Stoops. hearing different sidelines each week was a pretty neat experience."