Baker bound for
THS

cross country and track alum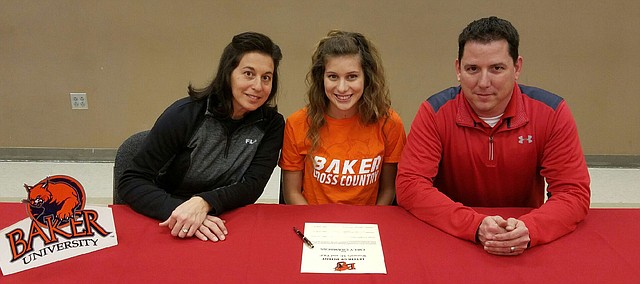 A major, a coach and future teammates helped solidify Emily Chambers' decision to continue her running career in Baldwin City.
Flanked by her parents, Jason and Jenny Chambers, Emily signed with Baker University earlier this year to run cross country and participate in indoor and outdoor track for the Wildcats.
"When I took my visit, the school just seemed perfect," Chambers said. "There were a few upperclassmen who came and had lunch with me. They had nothing but great things to say about Baker.
"The coach (Tim Byers) was just really nice. He came to a few of my cross country meets to see Drew (Cook) and me."
Chambers and Cook, both seniors this year at THS, will be teammates again at BU.
Chambers also had been looking at Mid America Nazarene in Olathe. Academically, she looked into MNU's nursing program.
But she eventually switched gears a bit and wanted to major in chemistry and pharmacy. That helped seal the deal at Baker.
At Baker, Chambers is expected to compete in the 800, the steeplechase and possibly the 4x800 during the track season.
During her career at THS, Chambers was second-team all-Kaw Valley League as a freshman and a senior. She also helped her team to a fifth-place finish at state in Class 4A this past fall when she finished 28th overall with a time of 21 minutes, 20.21 seconds. It also was a personal record for her in her final high school race.
She was the Tonganoxie girls' lone state runner as a freshman in 2013. Chambers then helped the Chieftains to their first girls regional title since 1990 in 2014. The team then tied a school record for highest state team finish that year with a fourth-place performance. The team placed fifth overall in 2016.
Chambers also has been a mainstay on the THS girls track team. In May, she helped the THS girls win bronze in the 4x400 relay. She was on the 4x400 Individually, she placed seventh in the 800 with a personal best 2:24.02 time. In previous years, she was part of 4x800 teams that placed fourth in 2015 and 2016 at state.
During her junior and senior seasons, Chambers competed in the steeplechase in select meets. Back in April, she placed third at a Wichita State high school meet and 10th at the Kansas Relays. Chambers is looking forward to the possibility of competing in the steeplechase more regularly in college.
As for offseason preparations, Chambers has been running basically every morning this summer in Basehor with Basehor-Linwood alumni Johnny Fulkerson, Quinnlyn Walcott and Joe Ruffcorn, alongside THS teammate Cook. Walcott now competes at Pittburg State, while Ruffcorn will run this fall as a freshman at York College in York, Neb. Fulkerson soon will be a teammate, as he already runs at Baker.
The runners have been racking up the miles as Chambers follows an offseason schedule from her Baker coaches.
"It's going really well," Chambers said. "They definitely push me every day. I'm in the best shape i've ever been in. I'm running more than I ever did in high school."
In about a month, the Baker cross country schedule will open with the Maple Leaf Invite on Sept. 2 in Baldwin City. Other regular-season meets will be in Joplin, Mo., Fayetteville, Ark., Cedar Rapids, Iowa, and Lawrence. The Heart of America Athletic Conference meet will be in Baldwin City and the NAIA national championships in Fort Vancouver, Wash.
"I'm looking forward to running with a whole new team and getting pushed more," Chambers said. "I tend to like track more, but I'm really excited for cross country this year."