Rickard ready to embark on college career at Ottawa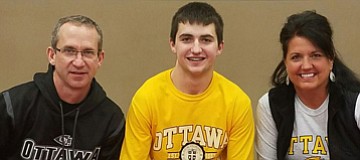 Keaton Rickard weighed his options in continuing his football career at the college level.
In the end, he opted to head south.
Rickard signed earlier this year to play football at Ottawa University.
He also seriously considered the short trip north to Leavenworth and University of St. Mary. He also had his eye on the short trip west to Washburn in Topeka.
But it was a campus visit with his father, Chris, to OU that sealed the deal.
"I just really liked the campus," Keaton Rickard said. "They run a similar defense … that helped. I can already jump in and know the playbook a bit on the defensive side."
Rickard was a strong safety for Tonganoxie in high school. He'll likely play strong safety/outside linebacker at Ottawa, he said.
The May THS graduate said he was leaning a bit toward a business major, but is still undecided
He plans to get his general studies out of the way and make a decision after his first year in Ottawa.
While at THS, Rickard played four years of football and basketball. He also played baseball his first two years of high school.
He was named second team all-Kaw Valley League as a strong safety for the Chieftains this past season. Rickard helped THS to a 5-4 record in 2016.
Rickard will look to get OU back on track in 2017. The Braves went 4-7 in 2016. It was Ottawa's first losing season since 2007.
He's been busy preparing for his college career, which starts next month with preseason practice.
Rickard has been keeping up with his workout instructions from Ottawa and participating in 7-on-7 scrimmages at OU on weekends.
"It wasn't enough for me to go through high school and play football," he said. "I'm just really excited to have the chance to continue my football career. I'm hoping to make something happen the next four years as well."
Ottawa opens the season Sept. 2 at home against Northwestern College.