Tonganoxie Summer Lunch Crew reports successful free youth lunch program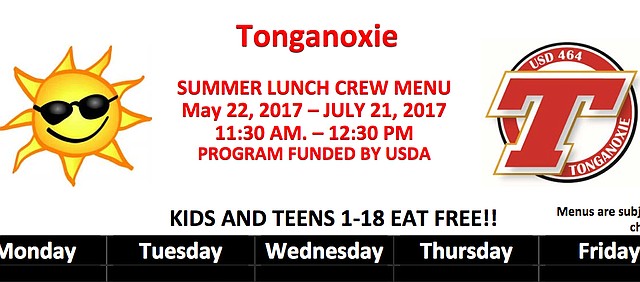 The Summer Lunch Crew grew in participation this summer at Tonganoxie Elementary School.
The program, which is in its second year, offered free lunches to any youths 18 and younger. The United States Department of Agriculture sponsors the lunch program, which can be found in many school districts. However, Tonganoxie added other components to its midday offerings aside from the meals.
The Summer Lunch Crew, led by Cara Bremer, Loretta Muha, Diana Smith and Heather Shoemaker, with Marilyn Dunn and Marcie Thompson filling in, served lunches May 22-July 21. The only weekdays food was not served were Memorial Day and Independence Day.
Officials moved the summer program to Tonganoxie Elementary School due to space limitations. Last year, the lunches were served at Tonganoxie Middle School. The lunch crew offered weekly activities and learning activities. My Plate activity was led by Chelsi Myer from Leavenworth County's branch of K-State Research and Extension. Meanwhile, the Book Buggy partnered with the lunch crew every Tuesday and Thursday, offering books to be checked out, read and returned.
Each day, student volunteers greeted visitors when they arrived. They would receive a flyer with a sticker. The recipient would put their name on it and put it on the trophy case windows. Upon returning, they would be given a sticker to represent each time they ate during the summer at TES.
Employees served 686 more meals in 2017 than in 2016.
Volunteers this year were John, Tina, Alanna and Amiya Bremer, Adam Wright, Logan and Harlee Morando and Madison Smith.
On the final serving day, July 21, the cafeteria was filled with activities such as limbo and overstuffed clothes race.
Some items served this summer were pizza, chicken nuggets, mini corn dogs, hamburgers, cheeseburgers, salad, fruits and vegetables.
"It was so nice to see kids from all ages, and parents, participate," said Barb Smith, USD 464 nutrition coordinator.
Adults could join youths for meals at a cost of $3.50 per meal.